Iomega ScreenPlay Director HD
The Apple TV for the rest of us?
The initial installation process was pleasantly straightforward. When you turn the Director HD on for the first time it asks you to select a language and either 16:9 or 4:3 aspect ratio, and whether you want to connect to a network. Everything went smoothly here and the Director HD was able to automatically connect to our network without asking us to enter any additional settings.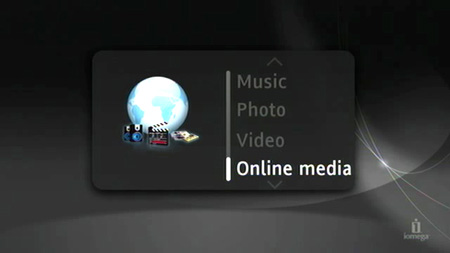 The Menu options are certainly easy to follow
The Director's hard drive also showed up as a network drive on both PCs and Macs on our office network, allowing us to transfer files onto it with no difficulty. That said, Mac users will have to reformat from the default NTFS format to FAT32 if they want to connect the drive directly to a Mac with USB. It supports UPnP and DLNA networking as well, so you can stream audio and video from a games console or other UPnP/DLNA devices.
After the initial set-up the main menu appears on screen, displaying large icons representing music, photos and video files. There's also there's a fourth icon – that wasn't present on earlier models – for 'online media'. The little remote control has a matching set of four buttons so you can quickly dip straight in and play whatever type of media you want.
We did encounter one problem here, though. The manual indicates that the Director HD should already have a default set of folders installed on it for storing your music, photos and video files. We couldn't locate these folders when examining the contents of the hard disk, so we had to create them ourselves. That's not a major hardship, but first-time users who haven't used a media player like this before could get confused here.
You'll also need to organise your files quite carefully too, as the browsing options are fairly limited. The Director HD only lists files or folders alphabetically, so you can't browse through your files using criteria such as 'artist' or 'genre' unless you specifically create 'artist' or 'genre' folders and then organise all the files and folders yourself.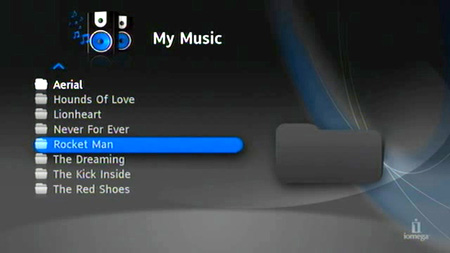 Music listings lack accompanying album art
There's no option to display album artwork either. Rivals such as the AppleTV provide a much slicker interface and more versatile browsing options. To be fair, though, the Director HD is a lot cheaper than the AppleTV and provides much greater storage capacity as well.