The display is a 16:9 ratio 15.6in widescreen with a native resolution of 1366 x 768 pixels, rather impressively backlit with LEDs and producing a very bright, clean image at a reasonable variance in viewable angle. The big screen was lovely to use, although the shiny surface was distracting when watching dark scenes during movie playback: it was like looking into a black mirror. While 1366 x 768 is great for home entertainment, it is a frustratingly shallow resolution for work use.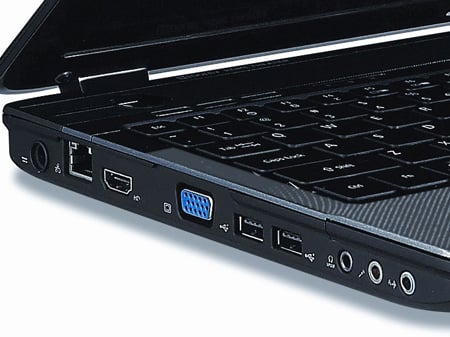 Most I/O ports are provided along the left edge, including HDMI
A webcam is built into the unit just above the display, with a mono microphone built into the base above the keyboard. Stereo speakers are also built-in, producing better-than-average notebook audio through Acer's implementation of Dolby Home Theatre and Virtual Surround Sound technologies. The audio still lacks bass but it is expansive, clear and fairly loud.
Wired connectivity is well provided for: there are four USB ports, a gigabit Ethernet port, an obligatory telephone socket for the built-in modem, and 3.5mm sockets for external mic, earphones and digital audio out. There is a standard VGA mini D-sub port for an external monitor but no DVI alternative, although the Aspire 5738PG does include an HDMI port, which also means you can use the notebook with your TV.
There is a camera card multi-reader slot at the front edge, supporting SD, xD, MMC, MS and MS Pro formats. You have to push a card in quite deeply to get it to insert or eject correctly, and we found it impossible to do so without tilting the whole notebook backwards to give more access to the slot. We experienced a similar difficulty when trying to eject the DVD drive tray on the right-hand edge. Simply pressing the Eject button was not enough: we had to push it inwards using a fingernail. By contrast, swapping out the battery pack from the base was quick and easy. Acer states a battery life of "up to 3 hours": running the intensive PCMark Vantage benchmarks on a loop, we achieved 2 hours 5 minutes.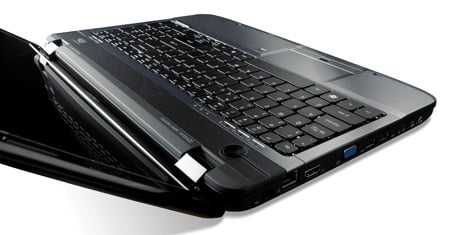 With 103 well-sized keys, it's a pleasure to type on
Finally, let's return to the Aspire 5738PG's multi-touch features. Acer has done a great job in making them accessible by enabling both the trackpad and the display itself as multi-touch devices under Windows 7. This means you can scroll, pan, zoom in and zoom out using dual finger movements open the trackpad or screen, much as you might while operating an Apple iPhone.
COMMENTS
Ah the old "small widescreen" trick
I just don't understand why anyone thinks 768 pixels is enough vertical space to us a computer for the internet. The whole "widescreen" proportion that seems to be all anyone is interested in using for laptops currently is absolutely useless for anything other than watching movies and maybe the occasional video game.
For reading web pages, using wordprocessors or any of the other regular computer tasks it is absolutely useless.
So is it a gimmick?
So is this touch screen technology here more of a gimmick?
Having played around with a couple of older tablet PCs, I can certainly see their advantage for some tasks, but it seems that a normal laptop with a touch screen is probably a bit pointless for day to day tasks. I mean, if you can't turn the screen round and use it as a tablet PC then you're going to look like a bit of a plonker prodding the screen.
Maybe there might be some uses for this afterall, the only one I can think of though is maybe for a night club DJ to select and play songs quickly without having to faff around with a mouse or touchpad.
Maybe it wouldn't be so bad if the price was a tad lower, say around the £500 mark.
Rob