Samsung H1 Vodafone 360
The Twitbook lover's delight?
The apps menu is a horizontally scrolling collection of every app on the handset - there are no folders hiding stuff away. Apps are colour coded according to broad groupings and can be moved around so the most frequently used are near the front of the collection. Some have a small grey triangle at their bottom right edge to show they can deliver data.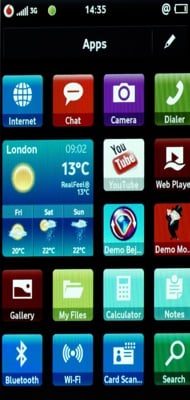 Tap certain apps in the menu and they expand to display data
The apps' icons sit in a normal sized tiled arrangement, but you can press and hold those that can deliver data and they grow to 4x size and their data begins to stream through. There's an AccuWeather link, for example, as well as dull old Vodafone McLaren Mercedes and ESPNSoccenet news. To turn off the streaming, press and hold again and the icons shrink to normal size.
There is other stuff on the H1, which offers a rounded set of applications. There is a calendar, alarm clock, calculator, notes maker, voice recorder and web browser. There's a YouTube client which wasn't working on our review handset so sadly we have no idea how well it functions. There is an FM radio, a movie player with Dvix and Xvid support, and a music player. The bundled headset is a two-piece affair so you can easily use your own headphones.
Call quality was fine and battery life was good too. We managed a day and a half between charges but using the Wi-Fi really does thrash the battery.
Verdict
The H1's focus is on social networking is welcome, but the phone has some key faults. If you pull in contacts from, say, Google and Facebook, you'll need to 'merge' the data using the Vodafone 360 website to make sure the same person doesn't appear on the H1 twice. That's a tedious task.
The technosavvy might be willing to put in the required level of effort to get Vodafone 360 working for them, but this handset is aimed at a wider market than them, and the majority of users might find it all too much trouble to bother with. ®

Samsung H1 Vodafone 360
Cute social network-centric UI, but the H1 on 360 isn't as out-of-the-box-easy as it should be.
Price:
Free on contract RRP