Samsung H1 Vodafone 360
The Twitbook lover's delight?
It looks absolutely stunning, and is a very novel and interesting way of coming into a handset. But all that sweeping isn't the most convenient way to actually find a contact. If you only ever contact half a dozen people then they'll be on the front page all the time. If you have more friends than that, you'll prefer to tap the People key again to call up the less cool but easier to navigate A to Z list view.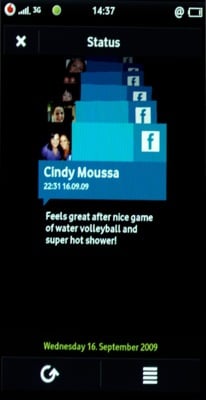 Contacts' Facebook status is displayed - but you need to go to website to enter info
Tap a contact and you can see whether they're online and reach them in various ways, though not all are available all the time. The options run to phone, email, SMS and chat. You can send location information too – but only to Vodafone 360 members.
You can see Facebook status updates but to enter any info into Facebook you need to go to the Facebook web page. That's the full desktop web page, not a special app designed for the H1's small screen. There's a shortcut by each status update, but the process feels disjointed and unpolished.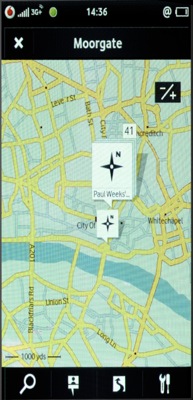 Find friends' locations - but only if they're Vodafone 360 members
There's a considerable element of cloud-based stuff going on with Vodafone 360. The phone's contacts and photos are automatically backed up to an area you get into with your Vodafone 360 login at www.360.com. Here you can view photos and create albums to share with designated Vodafone 360 chums. You can also send SMS and email - you get your own name@360.com address. And you can shop for apps.
Sponsored: Minds Mastering Machines - Call for papers now open