What ever happened to storing pics with electron cannons?
Blue Blue's digital photo beam
Electron cannon!
The photo-storage system had to overseen by at least one operator when in use for maintenance as well as supplying it with raw film, chemicals, and tender love and care. The operator had limited control over the system through an operator's panel composed of a power-on button, power-off button, and an emergency pull. Powering on the machine would start a program load routine that took about 30 to 40 minutes to complete (Windows Vista: eat your heart out). 1360 operators also had limited control over the machine using a printer/keyboard.
Plastic cells carrying raw film chips would be inserted into the system using a spacer box assembly and hopper that could hold up to 14 cells. Chemicals would be loaded into the system from two sets of three trays of developer, fix, and stop fluids contained in flexible, one-gallon polyethylene bags. The chemical supply was enough for about three to four hours of continuous operation.
A good bit of work for all that storage – but a considerable achievement in engineering. And who wouldn't want their data stored in a Rube Goldberg device? This system has some seriously heinous, yet undeniably spectacular features. More than enough to earn even a storage system a TOB salute.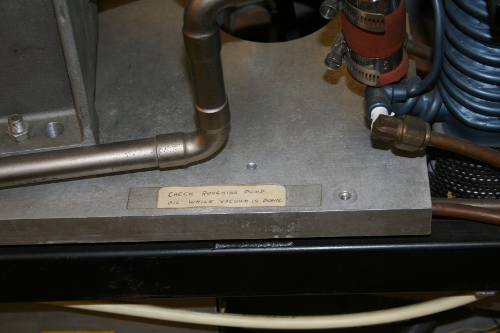 The message reads, "Check roughing pump oil while vacuum is down."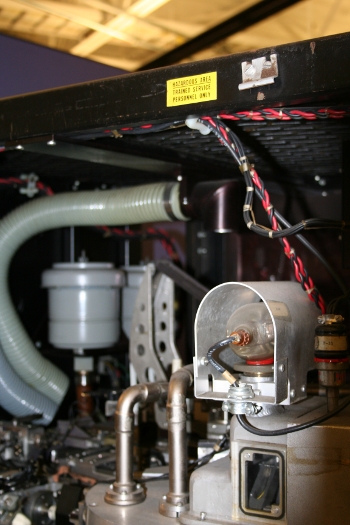 Trained service personnel only
Thanks as always to the Computer History Museum in Mountain View, California for letting us covet their aging machinery. The IBM 1360 system you see here was donated to them by Lawrence Livermore National Lab by the way, the big softies. Homework on the IBM 1360 should include the reminiscing of John Fletcher, former physicist who worked with the system at Lawrence Livermore.
'Till our next bi-whenever romp with boxes of legends. ®
1 Don't look here for answers. It was a rhetorical question.
Sponsored: Minds Mastering Machines - Call for papers now open