Super Micro primes 'Magny-Cours' Opterons
Intel Nehalems too. And, yes, Tukwilas
Universal I/O
Clegg was also showing off a two-socket G34 motherboard, the H8DGU-F, shown in the picture below. Like the uniprocessor mobo, this two-socket board has eight memory slots per socket, yielding 128 GB of capacity using the densest DDR3 memory that is widely available (and still too damned expensive). This particular board has a modular peripheral slot design that Super Micro calls the universal I/O board. See the three connectors running down the middle of the board, to the left of the processors and memory?
As far as the AMD chipset knows (which is below that fan and heatsink), those are plain old PCI-Express 2.0 connections, but they are actually proprietary Super Micro links that allow different variations of PCI-X and PCI-Express peripheral slots to be plugged into the mobo through those links, filling in the missing chunk of the motherboard.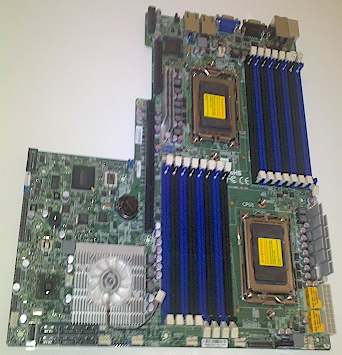 The Super Micro H8DGU-F Opteron 6100 G34 two-socket mobo
As you can see from this Super Micro G34 mobo, the Opteron 6100 package is rather rectangular. AMD has not released the pin count, but considering that Opteron 6100s are really two six-core Istanbul chips with upgraded on-chip memory controllers and some other virtualization and power management features baked in, all crammed into a single chip package with lots more pins coming out the bottom, this stands to reason.
Super Micro was also taking up Istanbul systems using AMD's initial "Fiorano" SR5XX/SP5100 chipsets (see the feeds and speeds of the chipsets here, for both rack and blade servers. But with much better Opteron 6100s right around the corner, only those who need to buy systems today really give a care about these.
There was also a SuperChassis 847A-R1400 white box disk array on the show floor that was interesting. You can plug just about any EATX or ATX motherboard that Super Micro makes into this chassis, which now sports 36 3.5-inch disk bays in the 4U chassis, up from 24 with the prior model. (That's the same 24 in the front of the unit, but now a dozen along the bottom of the back of the unit). If and when Super Micro shifts to 2.5-inch drives, it will be able to easily double the number of drives in a 4U space. No word on when this will start shipping, bit probably in the new year.
Clegg also said that Super Micro would be out in front with whatever Intel has cooking in its wafer bakers, and is looking forward to putting boards and systems together to support the eight-core "Nehalem EX" Xeon 7500s and the four-core "Tukwila" Itaniums, both of which are supposed to start shipping early next year in systems. When pressed for the kind of machines Super Micro would field, Clegg admitted that four-socket and eight-socket systems were the obvious choices for both Intel processors, but committed to nothing in particular ahead of launch. ®
Sponsored: Minds Mastering Machines - Call for papers now open