Acer Aspire 1810TZ
Small laptop, enormous battery life
Not so the three USB 2.0 ports, VGA, analogue 3.5mm audio I/O and SD Card slot, all of which are exactly what you'd expect to find on a netbook, as is the low-res 0.3Mp webcam. But the Ethernet port is Gigabit and the wireless is 802.11n. There's no optical drive, of course.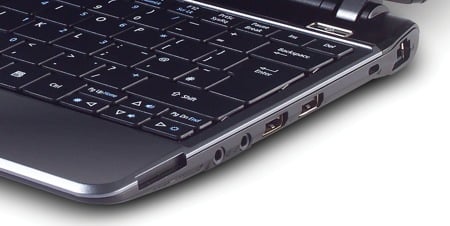 A netbook-style port array on this side...
Closed, the 1810TZ is a little over an inch (30mm) thick at its thickest point - where the battery is, basically - but it falls to around 22mm so it doesn't feel chunky when you're carrying it around. The lid adds some thickness, but we'd rather have the 1810TZ's 6mm-thick lid to protect the screen that some of the thin, bendy tops we've seen on some machines.
That thickness, along with the construction of the base, gives the 1810TZ a solid, well-made feel. It's nice looking too. The glossy lid offsets the matte black body. opening it reveals the matte black keyboard surrounded by a sober, businesslike gunmetal grey area and wrist rest.
Acer has eschewed fashionable chiclet keyboards, but the 1810TZ's keys aren't the old-style slope-at-the-edges type either. The keys are like those you find on a chiclet board but are larger and thus far less spaced out. There's barely any flex in the keyboard - though it's not as rock-solid as some - and it's pleasant to type on. If we had a complaint, it would be that it's quick close to the front: the wrist rest area and trackpad are narrow.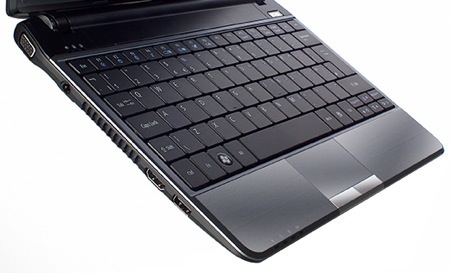 ...though there's HDMI on the left
While the trackpad is bigger than those on some netbooks, it's by no means notebook sized. However, we like the fact that it runs smooth and flush with the rest of the wrist-rest area. It also does multi-touch, with pinch-to-zoom, two-finger image rotation and - what we really like - two-finger scrolling. The buttons have a nice, easy action too.
Sponsored: Minds Mastering Machines - Call for papers now open