Reg readers lay out their selection criteria for app packages
It's not just about business functionality
Of course beyond the software itself, there is also quite a bit to consider in terms of how well it is delivered and supported in general by the supplier. Top of the list here, according to readers, is good technical documentation, an integration friendly support model that is not based on finger pointing when troubleshooting across dependencies, and an open culture and philosophy with regard to bugs, fixes and so on (Figure 3).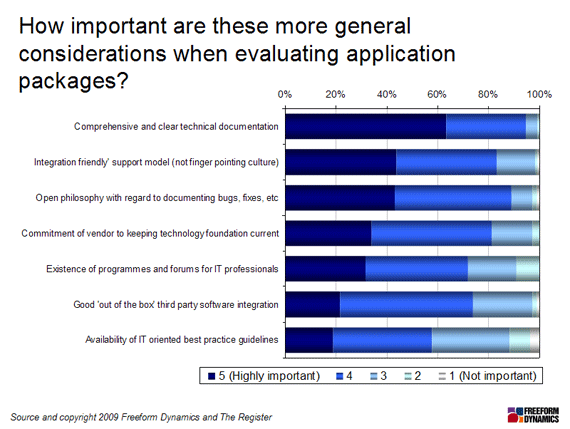 Figure 3
The message here is that IT professionals like to work with suppliers that trust them with information and respect their need for openness and self sufficiency, but are there to provide support in the right spirit when it is needed. Maybe this is a bit like asking for the perfect husband or wife, but there's nothing wrong with having aspirations.
What all of the above confirms is that there really is a lot to consider from a technology perspective when selecting packaged applications. The chances are that you probably knew this already, but it can nevertheless be useful to see where everyone else is putting the emphasis on specific points.
That's assuming, of course, that someone has the courtesy and sense to ask you (Figure 4).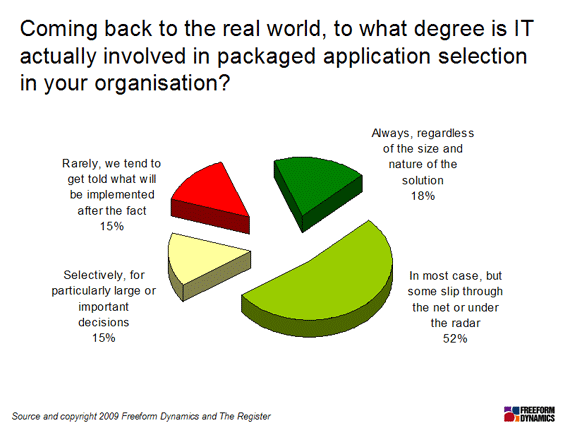 Figure 4
To be fair, this picture isn't too bad, but if you are one of those left out in the cold during the decision making cycle, perhaps highlighting what other organisations take seriously will help to make the case for more IT involvement in the future. ®
Sponsored: Minds Mastering Machines - Call for papers now open