TomTom iPhone Car Kit
Worth its Jobsian price tag?
Once again, TomTom has included its IQ Routes technology, which plots the most-efficient route based on data acquired from what the company claims are billions of miles worth of actual customers' driving experiences. IQ Routes displays routes based on the actual speeds achievable on roads at different times of the day and different days of the week, and not merely the posted speed limits.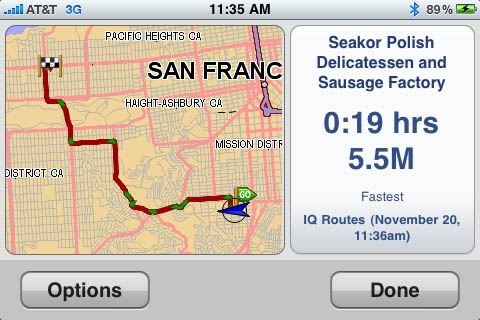 Full-route displays have been updated to take advantage of TomTom's IQ Routes technology
If you don't like the suggested route, you can use one of various Route Options controls to bend the app to your will. Among the Travel Via options, for example, is a Point on Map feature that allows you to tap on a map to tell the app a location you'd like to include on your route.
And speaking of routes, the app gives you a choice of a variety of route types from which to choose: Fastest, Shortest, Avoid Highways, Walking Route, Bicycle Route, and Limited Speed - and, if you should choose one with which IQ Routes disagrees, it will pop up a bit of gentle advice.
Your route can be displayed in either 2D or 3D views - and in both, such landscape features as parks, lakes, and the like will appear, a boon when matching what the app is telling you to the real world around you.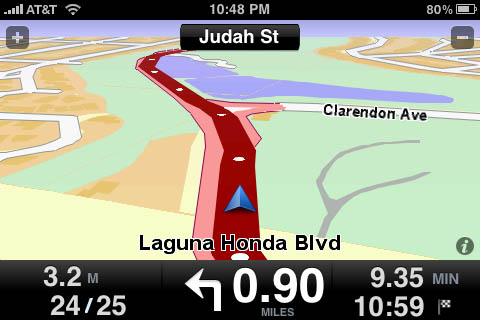 It's reassuring when the 3D display shows a lake as you approach a lake
Other niceties that have been carried over from the earlier version of the TomTom app are the display of points of interest (POIs) such as gas stations, restaurants, airports and 51 other types; the ability to plan trips in advance; and an assortment of differently colored displays for day and night driving.
Sponsored: Minds Mastering Machines - Call for papers now open