TomTom iPhone Car Kit
Worth its Jobsian price tag?
In addition to the standard 30-pin iPhone connector in the cradle, the car kit communicates with the iPhone over Bluetooth - a connection that brings with it all the vagaries of that wireless standard. Bluetooth may not be quite as finicky as parallel SCSI, but we needed a few tries to get it to establish a link between our iPhone and the car kit. Once it did pair up successfully, though, it stayed solidly paired between multiple power-downs and power-ups.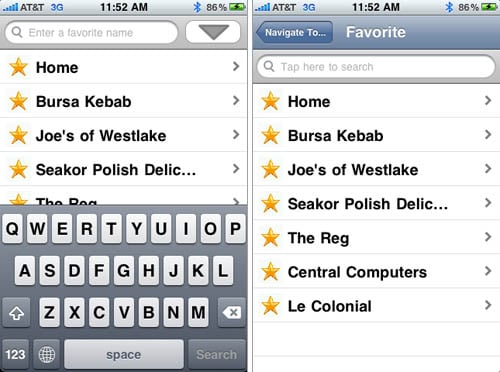 When choosing a destination from your Favorites, you can either search (left) or scroll and tap (right)
Once we got the car kit set up, we programmed a series of destinations into the TomTom app. Doing so is a simple matter - as you type in a city or street, the app narrows its choices down to an easily selectable list. Choose your street, type in the address, and you're ready to roll.
Addresses can easily be added to a Favorites list, and choosing among them is an equally easy task. You may, however, want to use the list's Edit function to arrange them into the order you prefer - standard iPhone UI rules apply for reordering and deleting - since the default listing is merely the order in which you entered them.
As we drove around the Cool, Grey City of Love, the TomTom app performed like... well... like a satnav unit should. Turn-by-turn directions were clear and correct - though, at times, the app warned of an approaching turn a bit early.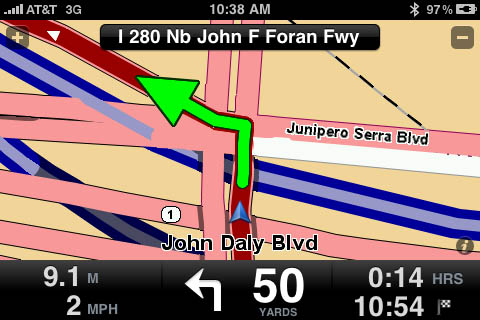 This 2D map got us on the freeway, but the spoken directions were less than clear
The only time that the app gave confusing or incorrect directions in our hours of testing was when it was faced with a particularly complex intersection. Ask any San Franciscan about the confluence of Sloat, Portola, West Portal, Junipero Serra and St. Francis, and you'll hear why the TomTom app got its signals crossed. Still, had we blindly obeyed it we'd be visiting our T-boned Mini in the junkyard and not writing this review.
Sponsored: Minds Mastering Machines - Call for papers now open