TomTom iPhone Car Kit
Worth its Jobsian price tag?
The car kit mounted easily to our Mini's windshield - or windscreen, depending upon your location. A three-inch adhesive dashboard-mounting disk is also provided, but it must be stuck to a flat area of the same size - something our dashboard doesn't provide.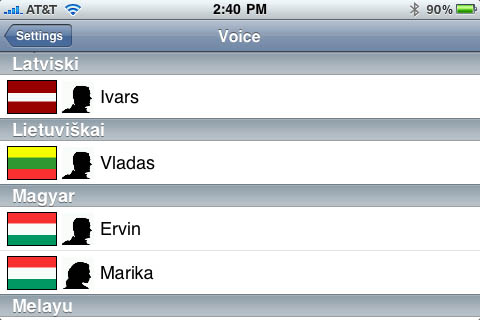 Need your turn-by-turn directions spoken in Lietuviškai? TomTom has you covered
Still, even when attached to the windshield the iPhone's display was plenty big enough to read, and the voice directions were appropriately loud. A volume control is included on the car kit, but we found it necessary to keep ours cranked to the max.
Voice directions are available in 30 different languages from Afrikaans to Türkçe, most with multiple voices and many with multiple accents - English directions, for example, can be heard in British, American, New Zealand, Australian and Irish inflections.
The iPhone slips into a cradle on the car kit that's connected to the suction-cup mounting pod by means of a ball joint that allows you to tilt and swivel the cradle into landscape or portrait mode. Unfortunately, the swivel is ratcheted rather than allowing smooth, true 360° flexibility, so it's no easy feat to get your iPhone exactly level.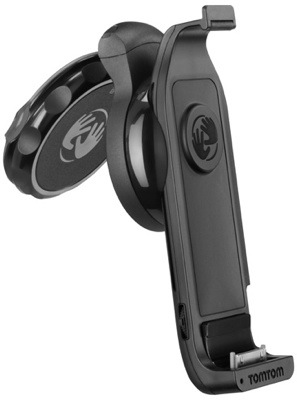 The cradle holds the iPhone snuggly - but you'll have to take the handset out of its case, if you have one
Another minor but unavoidable annoyance to the kit's mounting scheme is that you must connect the included USB power cable to your car's cigarette lighter - which also charges the phone. The mount's mini USB connector is on the left side of the cradle, next to a 3.5mm earphone jack. Your choice of portrait or landscape mode - or, for that matter, the car kit's placement - may be dictated by the length of that cable and where it ends up. For example, when we tried to mount the kit to the inside of our Mini's sunroof, the cable interfered with the stickshift.
Sponsored: Minds Mastering Machines - Call for papers now open