RIM BlackBerry Bold 9700
Slimmer, sharper, swifter
We were a little worried that the thinner form factor might lead to typing issues, the Qwerty keyboard being that wee bit smaller. We were pleasantly surprised however to find that it's lost nothing post-diet and that the ridged keys are just as easy to find under the thumbs whether you're using thumb pads or fingernails.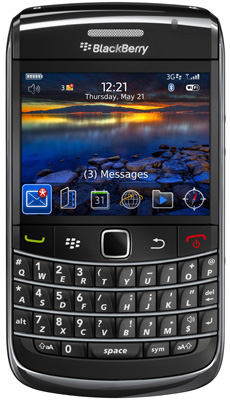 Like the latest Curve, the trackball has been replaced by a navpad sensor
The latest BlackBerry 5.0 operating system is on board, with its top line icons backed by alphabetical lists of functions (functional but boring that is – BlackBerry could do giving those lists a bit of a style tweak). There's a 624MHz processor which RIM says is 'next generation'. Although the original Bold also had a 624MHz processor, this one has been tweaked and offers power consumption improvements as well as speed enhancements. Indeed, it's certainly nippy and we never encountered any noticeable slow-down whether we were multi-tasking, web surfing or movie viewing.
Call quality was pretty decent through the 9700's speaker with a fully rounded tone that didn't break up even at full volume. Very unusually there's an option to adjust the tone of calls too, boosting or reducing the bass. Speakerphone mode functioned well and, when placed on a hard surface, at a good volume too.
E-mail, as usual, is still a BlackBerry strongpoint, with most e-mails being very easy to set up with just address and password. BlackBerry's push e-mail service is as good as it gets for up-to-the-minute e-mail access and there are Facebook and Twitter apps available for keeping tabs on your social network.
The browser is the same as we've been seeing in BlackBerrys past and present for a while now. It's not bad, but it could do with a few tweaks to bring it in line with the latest models available on other platforms. You can click on the track pad to zoom in (and the return button to zoom out again) but these only offer a single increment, and you'll need to access the menu for additional zooming action. The screen works hard to make text legible but it's still on the small side for easy reading and there's still no Flash video support and no option to open multiple windows.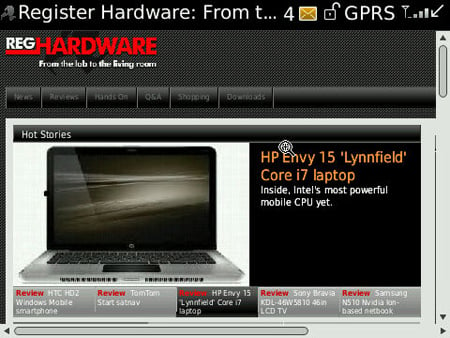 The browser is functional, but has plenty of room for improvement
The camera loads quickly in about two seconds after pressing the shutter button on the side, though the autofocus means it will take around four seconds to take a snap. The maximum resolution is 2,048x1,536 pixels and there's a 2x digital zoom operated by the trackpad. There are menu options for quick-sending via e-mail or SMS, but also uploading to Facebook or Twitter. With decent lighting, the picture quality is actually fairly good, with reasonable colour balance, though quality quickly diminishes if the conditions aren't ideal as our sample shots reveal. For video, the resolution drops to HVGA 480x352 pixels but it's reasonably clear, without too much blur.