iRiver Story
Best in class e-book reader?
iRiver doesn't supply any e-book management software, so loading non-DRM content is a simple matter of drag'n'drop which worked out of the box with Mac and Linux machines, as well as Windows. If you want to load DRM protected files, then Windows and Mac users can download Adobe's Digital Editions software, which works a treat with the Story.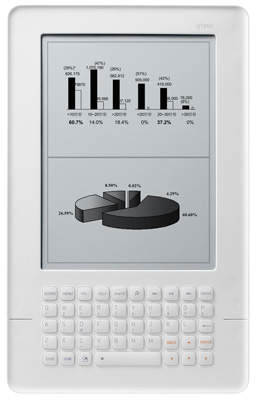 Robust volume: a decent music player and good battery life add appeal
When it comes to battery life, the Story again comes on strong. iRiver quotes 9,000 page turns or 20 hours of audio playback. The latter proved to be a little optimistic, as the best we managed was 17 hours, but that's still not bad going and the Story is over a thousand page turns better than any of Sony's Reader's can manage.
It's a pity that iRiver's rather useful combined zip-lock bag and carry case doesn't come with the Story. In Korea, it's only a £10 accessory if bought direct from iRiver, so hopefully it will follow in the Story's wake.
At £229 the Story undercuts the Sony Reader Touch Edition by around £30 and, despite the saving, you get more storage and a much better music player. Bookeen's Cybook Opus can be picked up for £200 but that only has a 5in screen, as does Sony's £180 Reader Pocket Edition and neither of them has a music player of any description. That makes the Story pretty decent value as far as these, admittedly, expensive e-book readers go.
Verdict
With its speedy menus, decent built-in music player, strong battery life and handy ancillary features, the Story looks a winner, provided you're running the latest firmware. If you want Santa to stick an e-book reader under the Christmas tree this year, then the iRiver Story is a sound choice, literally. ®
Thanks to AdvancedMP3Players for the loan of the iRiver Story.
More E-book Reader Reviews...

Sony
PRS-600
Touch

Bookeen
Cybook
Opus

Interead
Cool-er

Sony
PRS-300
Pocket
Sponsored: Minds Mastering Machines - Call for papers now open

iRiver Story
Ideal for ePub files with updated PDF viewing, but Excel support needs improving. Still, good battery life and a decent music player make it well worth considering.