iRiver Story
Best in class e-book reader?
iRiver divides the Story's file support into three categories – the E-Book Viewer handles ePub and PDF files while the Office Viewer can cope with PowerPoint, PDF, Word, plain text and Excel spreadsheet files. The Comic Viewer deals with JPEG, GIF and BMP files contained in zip archives or loaded individually.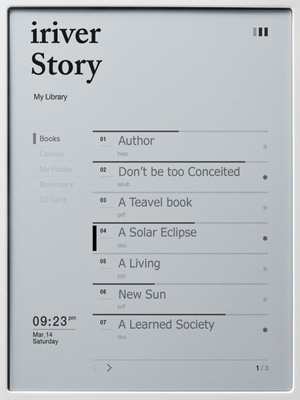 PDF reflow issues are improved with a firmware update
We have two minor complaints about the Story's file handling. Firstly, if you want your PDFs to reflow, you will need to update the Story's firmware from v1.02 to 1.04 which is pretty straightforward once you have downloaded the new firmware from here.
Secondly, the text in Excel files always appeared rather too small to read comfortably even when the magnification was set to maximum. Flip the image into landscape and the zoom option vanishes all together when looking at spreadsheets. Someone at iRiver needs a slap around the head for that, but hopefully a future firmware update with take care of things.
The Story's screen is the now common 800 x 600 E Ink affair. With its eight levels of grey scale it is crisp, clear and easy to read. While the Story doesn't 'turn' pages any faster than other e-book readers we have tested, the basic menu system does move a lot faster. Flicking up and down through the library was a noticeably more brisk affair than it was on the Sony Readers.
Navigating about the Story's menu system is helped by the home screen's double menu layout. If you are scrolling through your books or tunes, just hit the left arrow button and the cursor moves to the small subsidiary menu without having to refresh the entire page. Similarly, if you hit the Menu key a pop-up menu appears allowing direct access to all the Story's functions, again without a time consuming page refresh.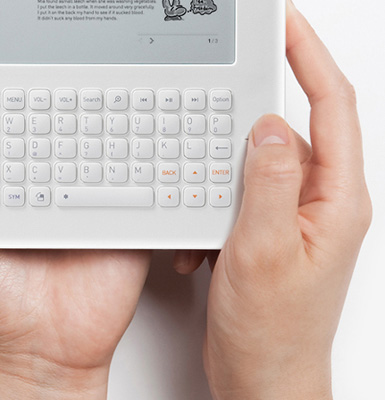 Navigation is good, but bookmarking could be less fiddly
Conveniently, you can control the music player directly from the keypad even when it is playing the background, so changing track, pausing or altering the volume doesn't have to interrupt your reading. The only trick iRiver has missed on the book reading front is not having a one-touch bookmark button. As it is, you have to hit Option, arrow down to highlight Add Bookmark and then select. It's a bit of a faff compared to Sony's one hit system.
Sponsored: Minds Mastering Machines - Call for papers now open