iRiver Story
Best in class e-book reader?
All the keys are labelled with admirable clarity, rather than with cryptic symbols. In typical Korean style, the Story comes with a fair amount of extra functionality including a voice recorder, memo facility and diary. Of course, all these features can also be found on any half decent mobile phone, so we wouldn't hold them up as reasons to buy a Story in the first place.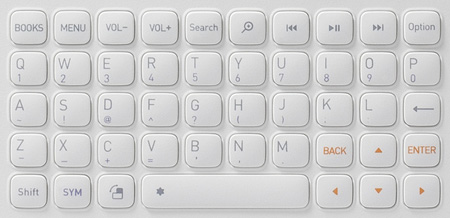 The clearly labelled keyboard avoids icon confusion
iRiver supplies the Story with an impressive 2GB of built-in storage, but the SD card slot is good for another 32GB. Applying Register Hardware's patented e-book reader storage formula, we find that the Reader will hold 1037 copies of War and Peace or 2554 of Moby Dick in ePub format, after the system has swallowed its 300-odd megabyte morsel.
Being iRiver the storage system has its idiosyncrasies, so if you load your SD card with music files and then try to access the card from the Home screen menu, they vanish. What you have to do is hit the Menu key, select Music and then SD Card, then your music reappears. The same is true for image files, which have to be accessed from the Comic menu key.
Data on the storage card and in the on-board memory are kept separate, rather than presented as a whole but, thankfully, the main menu also contains a Folder view, which gives you an unfiltered picture of what exactly is where.
Aside from MP3 files, unlike Sony's Reader Touch, the Story's music player can also handle Ogg and WMA files. It presents your music library in a sensible artist/album folder layout too, and puts album tracks in the correct running order rather than alphabetically. While short on offering fully-fledged ID3 tag support, it does at least make the Story a genuinely usable device capable of handling a large music library.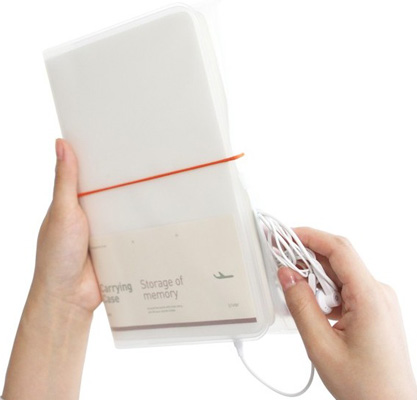 No case to answer: an optional extra, alas
Music files can be loaded onto the Story using an MTP media player. It sounds pretty good, helped by the eight different available EQ settings. Given the MTP support, it's a slight shame iRiver didn't fit the Story will a playlist facility. Even the 0.6W mono speaker round the back does a pretty decent job of audio playback and never makes listening to music too painful even at higher volumes.
Sponsored: Minds Mastering Machines - Call for papers now open