Samsung X520 notebook
Nine-hour battery life – hit or myth?
Curious as to how Samsung achieved its nine-hour road trip with the X520 – we're assuming the laptop was switched on for the duration and not just used as a footrest. We also ran a test that involved slowly scrolling a text document and under these far less strenuous conditions, battery life increased to just a few minutes shy of five hours.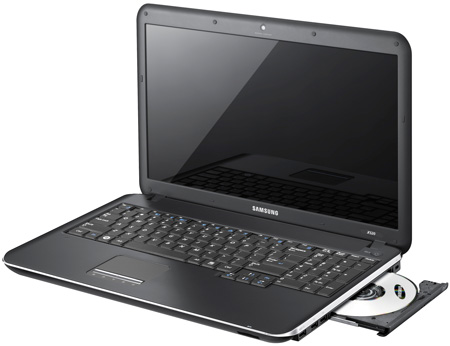 Battery life claims were a challenge to match in our tests
Flicking the Samsung Optimized power setting on – which among other things throttles the CPU at fifty per cent – and banishing Wi-Fi saw a further increase to a little over six hours, but is still a way off Samsung's nine-hour figure.
Indulge in a mix of web browsing, word processing and music listening, and you can expect around four hours out of the X520 when unplugged. And tipping our scales at 2.2kg - 2.5kg with the power adaptor included - it won't weigh you down too much on your travels.
Verdict
With its good, albeit not nine-hour, battery life and a rather enticing design, the X520 certainly has its plus points. And despite some unnecessary design imperfections, such as the springy numeric keypad and thin trackpad buttons, it's a decent choice for mobile workers. Alternatively, if you're willing to shave an inch off the display, the X420 will save you around £50. ®
More Laptop Reviews...

Toshiba
Satellite
L450-137

MSI
X-Slim
X600

Acer
Aspire
5935

Dell
Studio
15

Samsung X520 notebook
With integrated graphics and a 1.3GHz processor the X520 is no speed demon, but decent battery life and a stylish design boost its appeal.