Samsung X520 notebook
Nine-hour battery life – hit or myth?
Two small 1.5W speakers sit just above the keyboard and provide adequate audio, but we're not sure why Samsung has opted to extend the speaker grille from one end of the keyboard to the other. Eat a couple of digestives while using the laptop and the crumbs will soon find their way into the plethora of small holes, leaving you to get to work with a toothpick to remove them.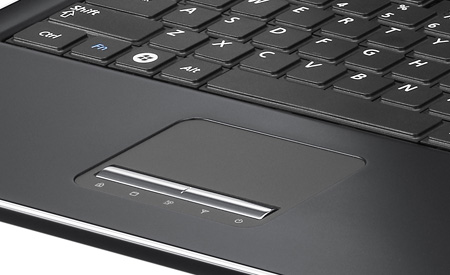 Stylish maybe, but small trackpad buttons are a fiddle
Samsung has perhaps been a little too keen to keep the X520's minimalist looks intact and gone for unnecessarily small buttons for the trackpad. With a thickness of just 9mm, we often found ourselves missing them and, instead, bashing our thumbs against the row of LED indicators below. There's also very little travel to the buttons – these take the form of a single rocker bar – which doesn't help matters.
On the plus side, the trackpad is a multi-touch model, allowing you to perform tasks such as zooming in and out of photos using a two-fingered pinching motion. It won't recognise more than two fingers at a time, though, and its small size makes multi-touch gestures feel very cramped.
The 15.6in LED-backlit display has a native resolution of 1366x768 and is furnished with a glossy coating. It also boasts wide viewing angles, and with the brightness at full whack it performs well outdoors. We've criticised Samsung in the past for not including 802.11n wireless in some of its most recent laptops. Thankfully, the X520 comes with an Intel Wi-Fi Link 5100 card that supports 802.11a-n.
It's stubbornly sticking with 10/100Mb/s Ethernet as opposed to Gigabit Ethernet, but this probably won't be a major sticking point for too many potential buyers. Bluetooth comes as standard, but there's no HSDPA – the latter would have been welcome on a laptop that's designed to be ultra-mobile. Meanwhile, storage is well catered for thanks to the 500GB hard drive.

No Gigabit Ethernet, but 802.11n Wi-Fi is supported
Given Samsung's going for mobility over power, it's no great surprise to find an ultra-low voltage processor at the heart of the X520. The SU7300 CPU Samsung's opted for is a dual-core model, but it runs at just 1.3GHz and the X520 suffered in our benchmarks as a result.