Sony to publish James Patterson e-book reader
Digital thrills?
Are thrillers more up your alley than slushy Mills & Boon romances? If so, take a gander at the latest version of Sony's Reader Pocket Edition: a tribute to author James Patterson.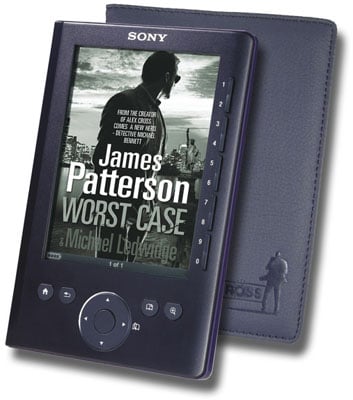 Sony's James Patterson Reader Pocket Edition
Called, unsurprisingly, the James Patterson Reader Pocket Edition, the e-book viewer will come with Patterson's novel, Cross Country, pre-installed and a voucher for a free download of the writer's upcoming tome, Worst Case.
Sony has also promised to pre-install a letter from the author – though it's unlikely to be personalised – alongside excerpts from some of his other stories.
To sweeten the deal, the James Patterson Reader Pocket Edition has been sprayed a "stylish midnight blue" finish and will ship with a premium case embossed with a picture of Alex Cross - Patterson's protagonist.
Sony's Patterson Reader Pocket Edition will be available from Sony Centres and bookseller Waterstone's on 30 November. A price hasn't been published, but the first edition of Sony's Reader Pocket currently commands an asking price of around £180 ($303/€203). ®
COMMENTS
Free "Worst" case
nice. just what you always wanted.