First Nokia X-series phone priced up, release scheduled
Three days to go
The launch of Nokia's first X-series handset is just days away, the Finnish phone giant has confirmed.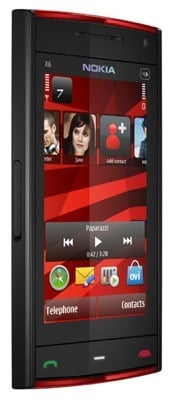 Nokia's X6: out this Friday
Unwrapped back in September, the X6 is the new range's flagship model and will be available on 27 November – that's this Friday, folks.
The handset will cost an eye-watering £449 ($761/€496) if bought SIM-free through Nokia's online store. Orange, however, will hand the device out for free on certain monthly contracts.
Nokia's X6 is unlikely to rival Palm's Pre – reviewed here - or the iPhone 3GS this Christmas, but it will attract plenty of attention thanks to its 3.2in, 16:9 capacitive touchscreen and 32GB of on-board storage. Like the Pre and iPhone, the X6 doesn't have a slot for external memory cards.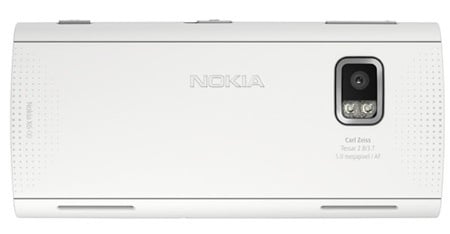 The phones feature a TV port and 32GB of onboard storage
Around the back of the X6 lurks a 5Mp camera with Carl Zeiss optics and twin-LED flash. The handset – which is just 14mm thick – also supports Assisted GPS and features a TV port.
The X6 is set-up for mobile broadband over HSDPA 3G and Wi-Fi. Bluetooth 2.0 is your cable-free option for moving data to or from the X6, Nokia added. ®
COMMENTS
@BristolBachelor
I go the other way! I like Nokia's because they are always updating and innovating - they regularly bring out new firmware and software updates, especially if you dont have a carrier-hindered handset. They give you the ability to do that stuff yourself, which saves everyone aggro.
I'm just a little pissed I forked out for an N97 when this seems to do much of the same job, as does the new n900, or even the N97 mini... Each so quickly released after each other...
Looks good
This looks pretty good to me. Might well be the phone that the N97 should have been and hopefully brings some new innovations to Symbian. I'm really chuffed with my Satio, so probably won't get the X6, but anything that keeps Symbian sales up is a good thing. I still truly believe that Symbian is the best mobile operating system - Windows Mobile is a joke, Android is immature and fragmented and let's face it, iPhone OS is more like iPhone DOS unless you jailbreak it.
Nokia phones
I'll take mine with Android or iPhone OS. If it's that or death, maybe I'll consider Win Mobile.
Otherwise, no thanks. My wife and I have had no end of trouble from Nokia's S60, and I'd rather go without a mobile.
I'm not too happy with Nokia's "once you've paid for it, we don't give a s**t" policy either.