Bing search bribery a retailer magnet
Microsoft's Black Friday redemption
Bing has boosted Microsoft's retailer revenues by nearly 50 per cent, according to a new search-ad study.
With a report released this morning, the click counters at SearchIgnite tell the world that during the first half of the all-important fourth quarter, US retailers spend 47 per cent more on Redmondian search ads they did during the same period last year.
According to the study, Bing now accounts for 8 per cent of all US retailer search ad spending, compared with last year's 6 per cent share. Average order values are up 21 per cent on Microsoft's rebirthed decision engine search engine relative to the rest of the market: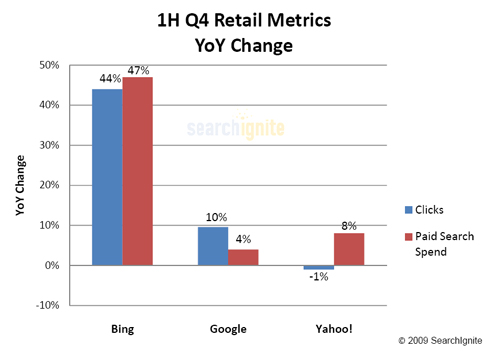 Part of this increase may be the fact that Microsoft is bribing users to search for etail stuff on its search engine. But it was doing that before Bing replaced the old Live search. Bing is specifically designed to boost searches in the areas of shopping, travel, health, and local search.
Indeed, it appears that Bing is also gaining in local search revenues. According to WebVisible, another click counter, Microsoft picked up some percentage points in the small biz market during Q3.
As we approach Black Friday - supposedly the biggest shopping day of the US year - Microsoft is sitting rather pretty. But anything is surely an improvement over last year's Black Friday, when Redmond's search bribery machine went tits up.
If you use Microsoft's search ads to find and buy certain stuff, Redmond will return a hefty portion of the purchase price. But last year, this cashback system buckled under the weight of too many users, and it was out of commission for several hours. ®
Sponsored: Minds Mastering Machines - Call for papers now open