TomTom Start
Made for map lovers, apparently...
Now, this isn't TomTom's fault as such - all satnavs suffer from this, even those with 7in or larger screens - but TomTom is the one saying that this device is better than reading a map.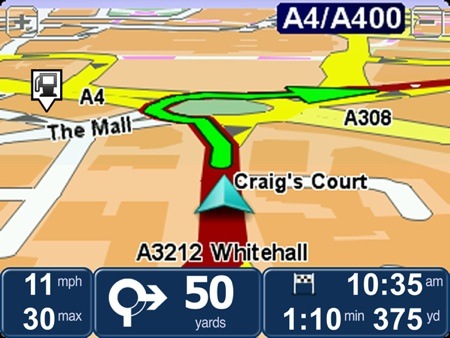 The navigation map is standard
Another point: the AA Great Britain Road Atlas we keep in the car has a far more interesting and comprehensive set of POIs printed on it that the Start has stored in its digital innards. We initially planned to drive to Wrest Park, an English Heritage property near Luton. The Start has never heard of it, so we cheated by driving to the nearest village and following signs from there. But surely, satnavs should be about eliminating the need to follow signs?
At Wrest Park, we had to decide where next to go. A glance at the map revealed a wealth of curiosities - castles, houses, obelisks and so forth - none of which appear on the utterly prosaic Start. Burger joints and banks? No problem. Scenes of natural beauty? You need to know about those already.
The second leg of our journey took us serendipitously past Ivinghoe Beacon and Ashridge, which we chose to go and have an impromptu look at. Credit to TomTom: it calculated a new route on the fly, quickly, and got us to where we originally selected without fuss.
The technological side of satnav, as demonstrated by the Start, can't be faulted. Route planning is quick, recalculation quicker. It got a satellite fix within moments of being attached to the windscreen using its integrated but removable mount, and when we came out of the Hatfield tunnel.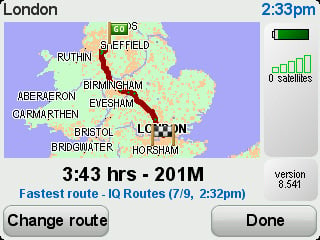 Route calculation is quick
As we say, there's no specific lane guidance, but in most instances the Start's bear left/bear right instructions were sufficient. The instructions came in good time, and were repeated. Its mental map of roundabout layouts could be improved, but since it was always clear and correct about which exit to take, this isn't a problem.