Sony demos monster 3D TV
280in 'wall' made from 70 28in sets
What better way to prove your commitment to the 3D TV market than showing off a big, massive whopping 280in 3D-capable TV? That seems to Sony's opinion, anyway.
Can't see the video? Download Flash Player from Adobe.com
The electronics giant this week displayed the monster screen at Japan's annual International Broadcast Equipment Exhibition, describing the screen as a "3D LED wall".
Sony's set is actually a montage of 70 LED-backlit LCD screens, each measuring roughly 28in, according to a report by website Tech On. Anaglyph style technology was used to create images for the left and right eyes, while viewers apparently had to wear polarising glasses to see the screen's image in 3D.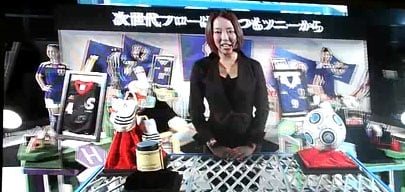 Sony's 3D LED Wall consisted of 70 screens
Source: Tech On
Bill Gates and Roman Abramovich may have their orders in already, but us lesser mortals will probably only get to see the super-sized 3D set in public venues – well, provided we carry polarising spectacles with us at all times. ®
Sponsored: RAID: End of an era?