HTC HD2 Windows Mobile smartphone
Big screen winner?
The camera, with its protruding lens, promised that it could be something of a departure for HTC and might turn out to be not bad. Unfortunately, that wasn't the case and we found the same problems that we always have with HTC camphones – flat colours, poor handling of bright exposures and fuzzy edging.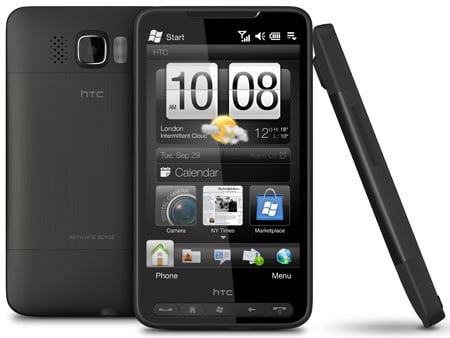 The camera looks promising, but the results are astonishingly bad
It has autofocus and a double LED flash there's not a great deal in terms of additional features. The touch focus option sounds nice but doesn't seem to have much effect in practise, there's only a 2x digital zoom and the panorama option which allows you to take three consecutive pics and stitches them into a single widescreen photo was very hit and miss. There's no timer option either.
Video quality wasn't quite as bad as we'd feared, delivering 640x480 pixels and 25fps, which isn't bad, but it still suffers massively in comparison with similar spec'd camphones from Sony Ericsson, Nokia, Samsung and LG. Even the iPhone's movie capture stands up well in comparison.
Watching video clips was much better than filming them. It can handle WMV, ASF, MP4, 3GP, 3G2, M4V and AVI files and they come up superbly on that bright, clear (and did we mention it was huge?) screen. There's an option to expand the clips to the screen's resolution too, which is extra impressive.
HTC's music player is preferable to the now very old-looking Windows Media Player – it looks better, and seemed to be able to accept a wider variety of audio formats, including AAC, AMR, M4A, MIDI, MP3, MP4, GCP, WAV and WMA. It's backed by a graphic equaliser and there's FM radio too.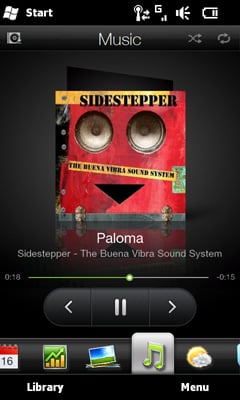 Sonic boon: plays numerous formats to avoid the silent treatment
The HD2 is a very busy handset, and we were pleased to see that it's running a 1GHz Snapdragon processor, which seems more than capable of handling multiple programs simultaneously. Moving between menus and apps happens at quite a lick as well, and there never seemed to be any hint of it slowing down.