HTC HD2 Windows Mobile smartphone
Big screen winner?
Those little animations for weather, messages and the like, keep advancing too and now look virtually 3D on the big screen. You can use the menu bar to find apps or you can brush the screen sideways to move between contacts, messages, mail, browser, calendar, stocks info, gallery, music, weather, Twitter, Footprints (HTC's geotagging photo function) and settings.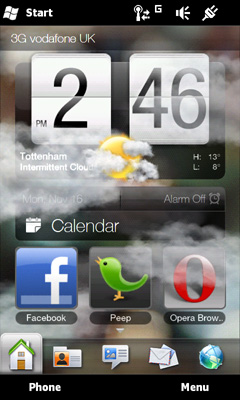 The usual suspects litter the homepage
There's also a trio of shortcuts on the homepage, which you can assign to programs, documents or individual contacts – including quick access to their phone or email. Flick the screen up and you get a new page where you can expand the number of shortcuts to nine. It seems a world away from the scrappy old Windows Mobile interface, and we never at any point felt the need for a stylus.
Lip service has been paid to social networking with onboard apps for Twitter and Facebook, though only Twitter is featured in the menu bar. It's not as advanced as recent options we've seen from the likes of the Motorola Dext, which offers networking updates on your home screen, but by adding shortcuts to each to your homepage it becomes easy to keep up with your posts and followers.
The Facebook app is the same as the one available in Windows Marketplace and it's good as it goes, but it would be even better if it would automatically integrate your Facebook friends into your contacts book, as it does on Android handsets.
Old-school email messaging is easy to set up with most major accounts requiring just an address and password, plus there's support for MS Exchange. The four-line onscreen keyboard is a breeze to use too, whether you're in portrait or landscape mode, with haptic feedback and auto spelling.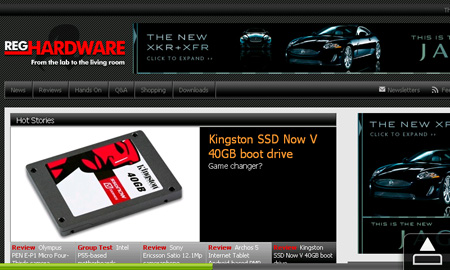 Both Opera and Internet Explorer are offered for browsing
Web browsing is also easy, especially with the ability to zoom by pinching or double tapping. Opera is loaded on-board, although Internet Explorer is also present should you feel the need. The accelerometer will flip it into landscape mode and it renders most web pages very well. It's nice and fast too, with HSDPA 3G network connection or Wi-Fi for broadband access. There's no Flash support, although there is a YouTube app for video viewing.