Tesla Roadster used for videogame audio
Electric engine fails to dampen screeching tyres
Leccy Tech What are the real benefits of an electric car? Reduced CO2 emissions? Less dependency on oil? Quieter inner cities? Nope. The correct answer is actually cooler sound effects for videogames.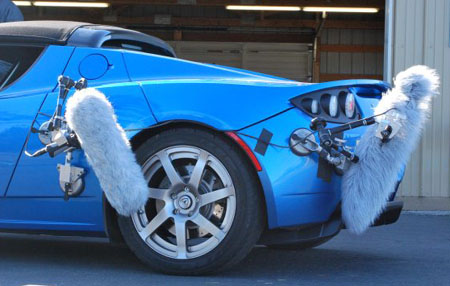 Microsoft strapped mics to the Tesla for clearer tyres sounds in videogames
That's according to sound engineering boffins from Microsoft Game Studios, who recently stuck microphones onto a Tesla Roadster and then thrashed it around a racing circuit so they could record genuine real-world tyre squeals without background engine roar.
Presumably the team didn't have to worry about inconvenient noises emanating from gear changes or the exhaust, either.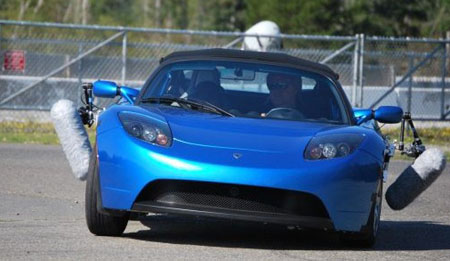 Mics were also put inside the cabin and boot
Microsoft didn't just use any old Tesla, though. The well-connected company used an eight-month old Roadster owned by Tom Burt – a racer from the Sports Car Club of America.
Three large outdoor microphones were suction-cupped onto the outside of Burt's car, while four smaller ones were slotted into the boot. Microphones were also positioned inside the cabin and up-close and personal with the front suspension members.
Burt then proceeded to drive the sh*t out of his car at a former airport-cum-race circuit.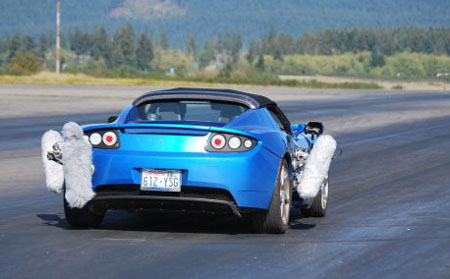 Forza Motorsport and Project Gotham Racing will get the e-car's sounds
By the end of the day the lads from Microsoft were apparently suitably chuffed with their mix tape and the sounds are expected to surface in forthcoming editions of Forza Motorsport and Project Gotham Racing.
Audio clips of Burt's screeching tires, doughnuts and wheel spins are available online now. ®
Sponsored: Minds Mastering Machines - Call for papers now open