Atrato replaces sales boss - again
To lose one is unfortunate, to lose two looks like carelessness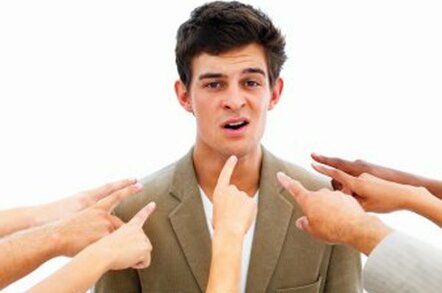 Atrato has replaced its sales VP, Marty Sos, after just three months, and recruited a marketing VP as well.
Marty Sos joined Atrato, which makes disk drive storage arrays with canisters of 2.5-inch drives, in late August this year, having left collapsed optical disk drive and archive vendor Plasmon. He's now VP of sales at Light Blue Optics, a privately-owned company developing miniature pico projection systems. It is headquartered in Cambridge, UK, with a development facility in Colorado Springs.
Atrato has replaced him with Jeff Edwards, who comes straight from being a sales VP at NEC Corporation of America. He's been around the sales management block a few times, with a 25-year history encompassing Hitachi Data Systems, IBM, StorageTek and COPAN Systems as well as NEC. Sos was no lightweight, having occupied high-level sales positions at McDATA and IBM on his CV, as well as Plasmon.
When Sos joined Atrato, we were told: "Sos will be responsible for worldwide sales, developing OEM and channel routes-to-market and ensuring the company exceeds revenue growth objectives across all target markets."
Steve Visconti, Atrato president and CEO then said: "With him on board, we expect to increase the reach and effectiveness of our sales and channel partnership efforts dramatically over the next 12 months." It looks like Atrato didn't achieve that.
Sos came in when his predecessor, Kevin Cordell, left after just one year and one month in post.
Jeff Edwards "will focus on expanding Atrato's partner and customer base worldwide," which sounds pretty much the same as Sos would have been doing.
Atrato has not taken off like a rocket since the launch of its Velocity1000 product line last year. Three sales VPS in two years suggests Atrato is either very unlucky or simply bad at picking people that are suited to its culture and products.
The company has not had a marketing VP before. That was the previous job of Steve Visconti, as he was an executive vice president for sales and marketing before being promoted to CEO. Visconti said Bill Mottram: "will lead development and execution of Atrato's go-to-market strategy, directing the company vision and product requirements for its Velocity1000 product line."
He said of his two new appointments: "Their industry experience and proven track record will be key to helping us further our market share and deliver long-term value to our shareholders." That's the problem Atrato has; market share. It's too small, and a fast turnover of Sales VPs won't have helped. If the latest one leaves quite quickly then perhaps it's time for consideration of new leadership at the top of Atrato. ®
Sponsored: Minds Mastering Machines - Call for papers now open