Sony Bravia KDL-46W5810 46in LCD TV
Setting the standard for Freesat tellies?
Our only other minor complaint is that the on-screen menu system is a bit of a mess. The KDL-46W5810 uses the standard Freeview and Freesat programme guides. These are perfectly straightforward, but the controls for adjusting image quality seem to be all over the place. The Options button on the remote control activates the main on-screen menu, which lists separate Picture and Scene Select sub-menus.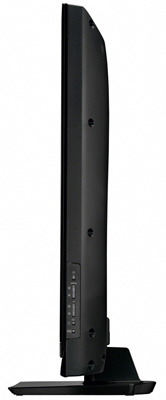 Sony's first Freesat delivers on detail
The Picture sub-menu allows you to switch between the Standard and Vivid presets, as well as adjusting a number of other settings in order to create your own custom preset. There's also an Advanced option in this sub-menu, but this is deactivated for certain presets, which means you have to scroll back and switch to another preset before you can even see what additional controls it offers.
Somewhat confusingly, the Scene Select sub-menu provides an alternative selection of presets for content such as games, movies and sports programmes. However, selecting some of these presets often deactivates some of the other settings that are available in the Picture sub-menu, so you can't quickly switch between the various presets without constantly moving back and forth between the Picture and Scene Selection sub-menus.
We were happy enough with the Vivid preset, but perfectionists who like to tweak the image until it's just right might get a bit frustrated by the poorly organised menu system. Incidentally, there's also a Theatre button on the remote control, which seems to provide yet another preset that isn't listed in any of the on-screen menus.
Verdict
An untidy menu system isn't the worst sin that an HD TV can commit, and the image quality of the KDL-46W5810 more than made up for that minor lapse. It may not have a top-of-the-range spec, but the fine detail that it captures in HD images means that this Freesat Bravia really makes the most of its 46in screen size. In fact, it shows off BBC HD so well, that newcomers to HD might finally understand what all the fuss is about. ®
More HD TV Reviews...

Sharp
Aquos
LC40LE700E

Philips
Cinema 21:9

Panasonic
Viera
TX-P42G10

Toshiba
Regza
37AV615DB

Sony Bravia KDL-46W5810 46in LCD TV
The menu system's a bit of a mess, but impressive levels of detail certainly show Freesat HD content at its best.