Sony Bravia KDL-46W5810 46in LCD TV
Setting the standard for Freesat tellies?
Our initial impression of the image quality was that the colours were a little lacklustre, but a quick prod of the Options button on the remote control revealed that we were using the default 'Standard' preset. Switching to the 'Vivid' preset livened things up a bit, producing a brighter image and bolder colours.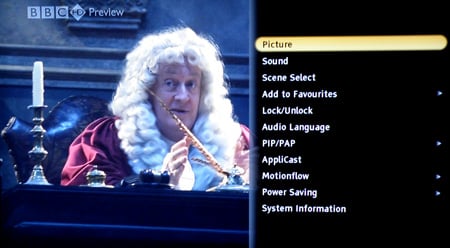 With extended use the Menus reveal a lack of refinement
Standard-definition content still has the soft, airbrushed look that inevitably results when scaling it up to HD resolution, but image quality was certainly a little better than we'd expected. Close-up images, in particular, seemed to display slightly more detail than we are accustomed to seeing with SD content on HD screens.
After switching over to the BBC HD channel that ability to capture fine detail emerged as the KDL-46W5810's real strength. We happened to chance across a spot of high-def ballet where some close-up shots revealed droplets of sweat glistening on a dancer's neck – it's the sort of detail that really reminds you why you bought an HD set in the first place, and the KDL-46W5810 did itself proud here.
The next step was to fire up some high-def films. This Bravia provides Full HD 1080p resolution, with Sony's 24p True Cinema option for films, and 100Hz Motionflow technology for reducing motion blur.
Models such as the KDL-46Z5500 may step up to 200Hz but we really had no complaints about motion blur as we watched Spiderman swinging across rooftops or Daniel Craig hurling himself around in Casino Royale. The KDL-46W5810 uses conventional CCFL backlighting, rather than flavour-of-the-month LED technology, but it produced crisp, clean blacks that worked well for the gloomy scenery of the Batman films.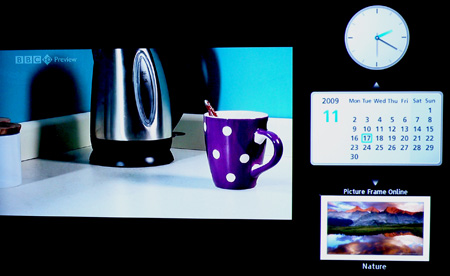 A limited range of Widgets are on-board too
Audio quality is more modest. There are separate controls for treble and bass, but a timely appearance from Muse on BBC HD revealed that the sound isn't terribly weighty even with the bass turned right up. It's fine for watching ordinary TV programmes, but movie buffs will probably want to utilise their own external speakers.