Google remaps Earth for iPhone
Turn-by-turn (mis-)directions
Well, it's free
Sometimes, the tool's route choices were forgivable, such as when we attempted to create a walker's map that went the wrong direction down a one-way street - as near as we could figure, walking is a no-no. Other times the routes chosen by the My Maps builder were wacky in the extreme, with little or no rhyme or reason. In addition, trying to correct mistakes was far from intuitive - or, at times, impossible, as far as we could determine.
After repeated tries, we finally managed to create (carefully, carefully, carefully) a decent route. Loading it onto the iPhone was a blessedly painless experience: just quit Google Earth for iPhone, relaunch it, and your new My Map is waiting for you.
However, when we opened up our first reasonably routed map in Google Earth, we were disappointed to discover that what looked just fine in both Safari and Firefox was a mess in Google Earth for the iPhone. Some streets were skipped entirely, and our route had us climbing through San Francisco backyards on our way to the Castro Theater.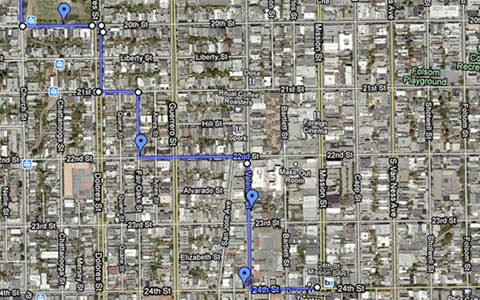 When viewed in Google Maps in Safari, our custom map had a rational route...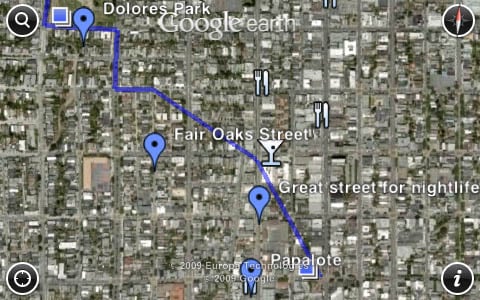 ...but when viewed in Google Earth 2.0 for iPhone, we were asked to climb through backyards
We tried other routes, as well, with mixed success. The most accurate way to describe version 2.0's support for the My Maps feature would be "spotty."
Google Earth version 2.0 takes the goodness of its original version, marries it with the infuriating interface of its browser-based My Map custom-map creation tool, and then occasionally incorrectly displays your custom maps after you transfer them to your iPhone.
If you don't need custom maps, Google Earth 2.0 is fine and dandy - and, hey, it's free. But if you want to create and share your own map routes, wait until a bug-fixing version 2.0.1. ®
Sponsored: Minds Mastering Machines - Call for papers now open