Sony unveils Mills & Boon Reader
E-book romance?
Sony has come over all amorous in the run-up to Christmas, launching a version of its Reader e-book viewer inspired by romance publisher Mills & Boon (M&B).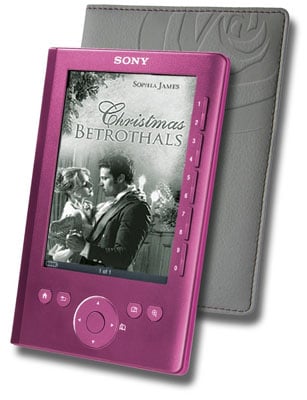 Sony's Mills & Boon version of the Reader Pocket Edition
Steve Haber, President of Sony's Digital Reading Division, said back in September that UK e-book buffs "should expect more Reader models". And the limited edition M&B Reader Pocket Edition may have been just what he was hinting at.
Supposedly created especially for romance fans, the M&B Reader will come pre-loaded with three Christmas-themed M&B titles: Snowbound: Miracle Marriage, Under The Boss's Mistletoe and Christmas Betrothals.
A voucher for ten further M&B e-book downloads will also be bundled with the Reader, which Sony has re-hued with a "romantic rose pink" finish. A "premium case" embossed with M&B's iconic rose logo will also be included.
The Mills & Boon Reader Pocket Edition will be available in the UK from 23 November. A price hasn't been published, but the first edition of Sony's Reader Pocket model currently commands an asking price of around £180 ($303/€203). ®
COMMENTS
All tech begins with..
Where's the wipe clean colour screen Playboy special edition?
ah I believe this coat is mine..
Miss-read
Hmm, must read more slowly. Nearly bought one when I miss-read Christmas Betrothals as "Christmas Brothels"