Sony Reader PRS-300 Pocket Edition
The e-book reader for everyone?
Yes, you can still squeeze a fair-sized library into the Pocket's 512MB of built-in storage. Well, 380-odd MB after the system software takes a bite, but that is still enough for 225 copies of War and Peace or 600 of Moby Dick in ePub format. But not fitting a memory card slot of one form or another for those who want to carry a larger number of larger files about does seem both parsimonious and daft.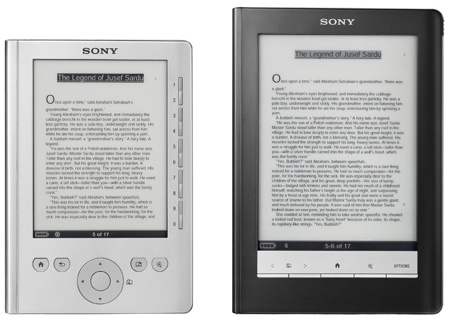 Pocket (left) and Touch: does an inch make a difference?
Presumably, Sony has shorn the Pocket of storage expansion to avoid taking sales from the Touch but that makes the Pocket look like poor value when compared to the 505, which had memory expansion slots and a larger screen but only cost £20 more, including an extra 2.5 per cent of VAT.
The absence of a music player is also a let down. One of our reservations about the Touch was the continuation of the 505's very basic AAC/MP3 player, but to remove the functionality altogether? That gets right up our noses here at Register Hardware as we regularly used both the Touch and 505 Readers to listen to music while reading.
Of course, without memory expansion you'd be stuck for anywhere to put your music files but that just underlines what a bad idea it was not fitting any storage expansion in the first place.
Format support is unsurprisingly identical to the Touch, so the Pocket will handle EPub and BBeB – with and without DRM – as well as PDF, Word, plain text and RTF files. Battery life has taken a small hit with Sony quoting 6800 page turns to the Touch's 7500, though in day-to-day use the difference is unlikely to be noticed.
Verdict
Sony has missed an opportunity to pitch the Pocket Edition as the iPod Nano to the Touch Edition's iPod Touch. Sure the Pocket is a fine bit of kit as far as it goes – it's well made, light, compact and provides a fine reading experience – but at £180 its far, far too expensive for something which as had so much functionality stripped away. If the UK Reader line-up was priced closer to the US range – at $199 and $299 (£120 and £180) - we would be far more enthusiastic. ®
More E-book Reader Reviews...

Sony
PRS-600 Touch

Bookeen
Cybook
Opus

Interead
Cool-er

iRex
DR1000S
Sponsored: Minds Mastering Machines - Call for papers now open

Sony Reader PRS-300 Pocket Edition
A nice enough device, but stripped of some significant core abilities offered by the Reader Touch Edition.