Sputnik, spaghetti and the IBM SPACE machine
The 50th anniversary of the 1401
Instructions past
In 2004, IBM research and design veteran Robert Garner set out to restore a 1401 to working order. And five years later, he and his team have not one but two up and running at the History Museum.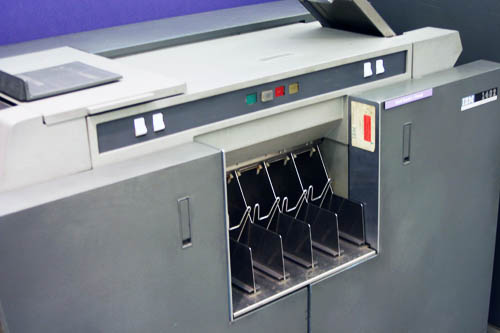 The 1402 card reader
The machines have a cycle time of roughly 11.5 microseconds, and they need about 50 cycles to add a 20 digit number. That makes them about a million times slower than a modern PC. But in some respects, Fran Underwood says, the 1401 is still the superior machine.
With his SPACE machine, Underwood remembers, you could calculate the powers of 2 with a mere nine instructions. "Today, you'd need tens of thousands," he says. "That's terrible." ®
Sponsored: Learn how to transform your data into a strategic asset for your business by using the cloud to accelerate innovation with NetApp