'Ave a desktop says Avamar
EMC's Quantum and CommVault bludgeoning dedupe upgrades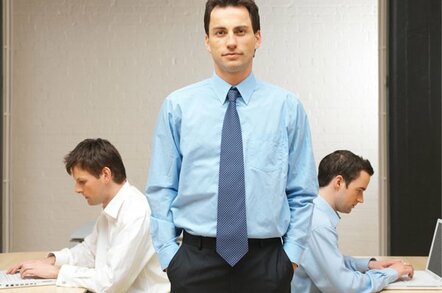 EMC's fifth version of Avamar has extended its capability from servers to desktop and notebooks, increased Data Store capacity by over 60 per cent and can write deduplicated data directly to tape.
Avamar is deduplicating technology that runs in the system holding the data and removes block-level duplication, before sending the data to a target device as part of a backup process. EMC says Avamar users never have to backup the same data twice, reducing daily network impact by up to 99 per cent.
What EMC has done is to add lightweight clients for Windows and Mac users, with an intuitive end user interface for backups and restores, and administration tools to manage the deployment and operation of the new clients, and tools for administrators. It says Avamar backups "are non-disruptive, and a self-service recovery model makes it easy for end users to restore data."
Avamar has a capacity-based licensing model and customers can add this new capability without paying a per seat license fee. Instead they will probably need to pay capacity increase fees.
EMC has also added virtualisation support of VMware vSphere4 through vCenter and vStorage integration to Avamar, giving customers more backup and restore options. Avamar is now integrated with the vStorage API that comes with vSphere 4 and provides, EMC claims, "a more robust solution for VMware backups. [Also] Center has been integrated into the Avamar management console providing a single point of management for all [the] backup options available."
Customers can centrally manage their Avamar deployment through EMC's NetWorker backup software.
To cope with the expected new surge of data flowing into data centre Avamar installations, EMC has increased Avamar generation 3 Data Store capacity by more than 60 per cent. It is available in 1 to 16 storage node configurations, with up to 3.3TB of capacity per node, and scales up to 52.8TB of deduplicated capacity in a single grid.
Finally, and in a possibly surprising move, EMC has added a deduplicated data export to tape functionality to Avamar. It is called Avamar Data Transport for Long Term Storage and EMC claims it can reduce tape storage capacity need compared to raw data tape backup by up to 50 times. The tape export process is policy-driven and users have access to "searchable file-level catalogs for rapid restores."
EMC is hoping customers will choose Avamar in preference to Quantum's DXi products and also to CommVault's Simpana, which can also export deduplicated data to tape. It is hoping to persuade customers by extending Avamar to cover client devices as well as servers, increasing data store capacity and adding an export of deduplicated data to tape capability. Ironically EMC sells Quantum-supplied tape storage libraries.
V5.0 Avamar is available immediately from EMC and its channel partners. ®
Sponsored: Minds Mastering Machines - Call for papers now open