HP Envy 15 'Lynnfield' Core i7 laptop
Inside, Intel's most powerful mobile CPU yet
Unfortunately, there's one thing that the Envy 15 does have in common with the Rock Xtreme – and that's its poor battery performance. We hoped that the laptop chip used by the Envy 15 would prove to have much lower power consumption, extending the runtime of the unit's six-cell power pack. Sadly, the Envy 15 could only manage about 85 minutes of battery life when running PCMark Vantage on it.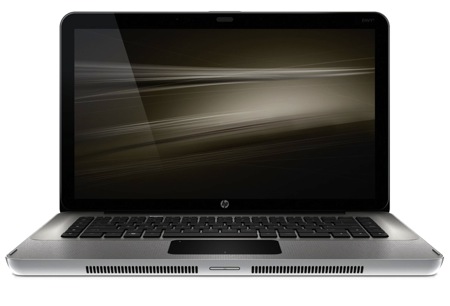 Nice design, shame about the battery life
Battery life wasn't any better when running H.264 video straight off the hard disk, and experimenting with Windows 7's power settings didn't seem to make much of a difference either. HP does sell an optional nine-cell battery pack that it claims can provide up to seven hours of battery life, but that costs over £200 so we'd expect it to make the tea and tuck us into bed at night for that price.
Still, this is a 15in machine and is likely to spend more time on desks, connected to the mains, than running off batteries while sat on someone's lap. Our test is an extreme one and we'd expect that, under ordinary usage, you'd get around three hours' runtime out of it.
Verdict
There's no denying that the Envy 15 is one of the most elegant laptops we've ever seen. It also provides outstanding performance at a competitive price - £1199. Sure you can get a 15in notebook for under £400, but not one as powerful as this - or as good looking. We'd hoped for stronger battery life from the laptop version of the i7 processor and this weakness means that the Envy 15 is essentially a desktop replacement system, rather than a truly portable laptop that you can whip out to impress people in your local Starbucks.
If you're looking for a really powerful PC that is also light enough to carry from one site to another without giving yourself a hernia then the Envy 15 will be hard to beat. ®
More 15in Notebook Reviews...

Apple
MacBook
Pro

Toshiba
Satellite
L450

MSI
X-Slim
X600

Acer
Aspire
5935
Sponsored: Optimizing the hybrid cloud
HP Envy 15 'Lynnfield' Core i7 laptop
Yes, the battery life is disappointing, but the Envy 15's powerhouse performance and competitive price make this an impressive desktop replacement system.