HP Envy 15 'Lynnfield' Core i7 laptop
Inside, Intel's most powerful mobile CPU yet
Despite its relatively low clock speed, the quad-core Envy 15 still outstripped the various Core 2 Duo laptops that we've reviewed in recent months in just about all aspects of system performance – and that includes Apple's 15" MacBook Pro, which comes in at almost £1500. We attribute that performance to Intel's TurboBoost technology, which can boost the basic processor clock speed if any of the processor cores aren't being used. In the case of the i7-720QM used here, the clock-speed can actually get right up to 2.8GHz.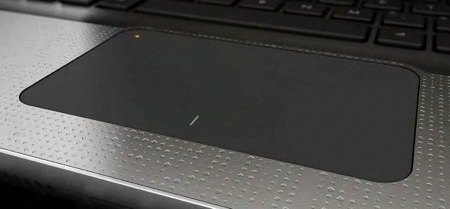 The MacBook Pro-style clickable touchpad is good to use
The Envy 15 even managed an impressive 89.30fps when running Far Cry 2 at full 1366 x 768 resolution, rising to 95.5fps at 1024 x 768, so it'll make an excellent workhorse for heavy-duty gaming or graphics work. Having a discrete ATI GPU really pays off here.
If you're more used to old-style PCMark05 numbers, the Envy 15 yieled an overall score of 7031, putting it well ahead of every other notebook we've tested bar one. Its CPU, Memory, Graphics and HDD scores of 6824, 7412, 7961 and 5912, respectively.
The Envy 15 wasn't as staggeringly fast as Rock's Xtreme X790, which is the only other Core i7 laptop we've seen so far. However, that machine was built like a tank, had an desktop i7 running at 3.06GHz and cost twice as much as the Envy 15. That makes the Envy 15 the clear winner in terms of overall price and performance.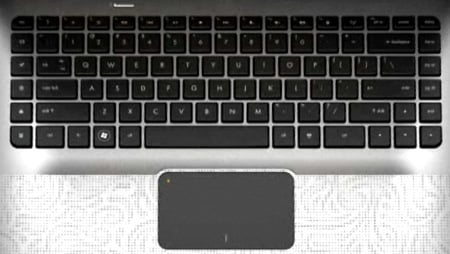 The keyboard is nice and rigid
The Rock machine also got very hot and had a number of powerful fans built into it to cope with the heat output. In contrast, the Envy 15 merely got a bit warm on the underside. It wasn't even so hot that it would be uncomfortable when balanced on your lap. The cooling system does make a slight but noticeable humming sound when it's running, but we didn't find it loud enough to be annoying.
Sponsored: Minds Mastering Machines - Call for papers now open