HP Envy 15 'Lynnfield' Core i7 laptop
Inside, Intel's most powerful mobile CPU yet
The notebooks also supports 802.11n and Bluetooth wireless connectivity, and there's an SD memory card slot on the front edge of the unit. HP includes the product manuals on a 2GB memory card, which you can obviously reuse once you've made a copy of the PDF.

Here come the grilles
The keyboard has a nice solid feel to it – as it should do at this price – and we could touch-type quite comfortably on it. The trackpad works well too. Its size makes it easy to perform tasks such as scrolling through long documents, and also allows you to use the lower left and right corners of the trackpad like conventional mouse buttons.
The screen has 1366 x 768 resolution - a 16:9 aspect ratio - and uses LED backlighting that produces a very bright and colourful image. The glossy coating on the screen is highly reflective, though, which some users will find annoying when bright daylight falls on the screen.
Nonetheless, the external design of the Envy 15 is extremely attractive and shows that 'boring old PC manufacturers' can give Apple's design team a run for their money when they bother to make the effort.
However, it's the inside of the laptop that really piqued our interest. The Envy 15 arrived with 64-bit Windows 7 Home Premium pre-installed and is equipped with a Core i7-720QM processor running at a relatively modest 1.6GHz, so we were curious to see how that processor would compare with Core 2 Duo processors that typically run at much higher clock speeds.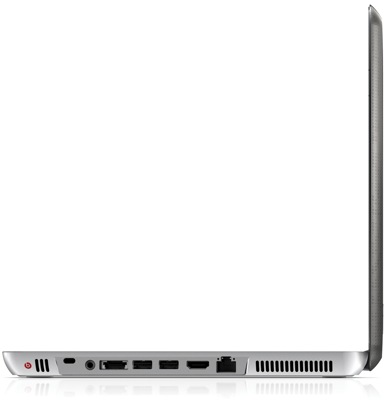 Ports a-plenty - but no on-board optical drive
The i7 chip is backed up by a healthy 4GB of DDR 3 memory - which can be upgraded to 16GB in total - a 320GB Sata hard disk running at 7200rpm and an ATI Mobility Radeon HD 4830 graphics chip which grabs at least 1GB out of the 4GB of main memory and can take up to 2811MB.