Lite-on ETDU108 slim DVD drive
Burning ambition?
Your money buys you the drive, a short - 21cm tip to tip - mini USB cable and nothing else - no case, no software, nothing.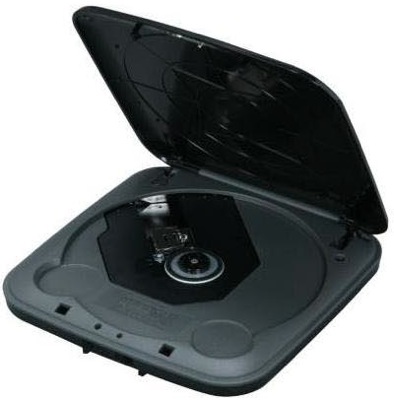 Never be trayed
Unlike other slimline external optical drives we've seen, the ETDU108 isn't a tray-loader. The lid flips up Sony Discman style to allow you to clip your disk onto the spindle within. Clip down the lid and the read mechanism kicks in automatically.
There's a big emergency stop button the front of the lid that immediately stops the disc from spinning. Beneath it Stop, on the front of the drive, is a spring-loaded slider that trips the lid's catch release.
Low-cost slimline optical drives aren't the most solidly built of computer peripherals - at least, that's what they feel like - and the ETDU108 is no exception. It's very light, and it the lid's not going to survive punishment. But the that's true of any portable disc player, and having a lid rather than a tray is certainly handy for working in confined spaces such as airline seats.
The low weight - 300g - slim dimensions and curved corners make the ETDU108 as portable as they come. With no tray mechanism it's a good 10-20mm narrower and thinner than other drives of this type. Lite-on has a cut a cable-shaped groove in the base into which you can tuck the USB cord.

The mini USB port sits in the notch at the back
We hooked the ETDU108 up to an Acer Aspire One D250 netbook - reviewed here - and found it eminently suitable for DVD viewing. Playback was perfect, and skipping chapters no chore.
Sponsored: Minds Mastering Machines - Call for papers now open