Play.com leaves Modern Warfare 2 buyers empty handed
Guaranteed launch day delivery promise broken
Updated Online retailer Play.com has failed to reach out to many Call of Duty Modern Warfare 2 buyers it left in the lurch after failing to live up to its guaranteed launch-day delivery promise.
While many retailers, including supermarket Sainsbury's, slashed the game's price to around £26 ($43/€29), Play promised "guaranteed delivery on day of release" to pre-order customers provided they cough up £45 ($75/€50) for title's console edition or £35 for the PC version. The game qualifies for free delivery.
However, Register Hardware has been contacted by a number of Play customers who still haven't received their copy of the game – despite that "guaranteed delivery" promise.
Call of Duty Modern Warfare 2 went on sale on Tuesday.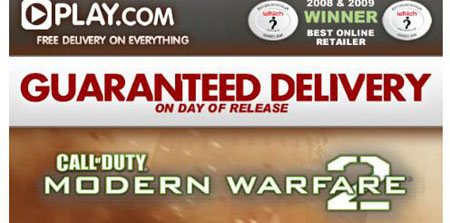 Play failed to tell us when missed deliveries will be made
Play has "failed many customers", one reader told us. The online retailer "assured games fans that they would receive the most anticipated game of the year on release day so long as they ordered before 8 November 2009".
Register Hardware contacted Play to ask the company how it plans to rectify the problem and, crucially, when gamers will receive the game.
"Play.com is taking this situation very seriously and is working with their mail carriers to ensure the fastest possible delivery of Call of Duty: Modern Warfare 2 to all customers," we were told.
That's all Play would say. It did not to apologise to customers who did not receive their game on launch day.
Play's delivery small-print terms and conditions say: "Play take no responsibility for late delivery due to card failures, incorrect address details or failure on the part of the delivery partner."
And some customers have claimed that Play has offered compensation for copies not delivered on time. However, Play did not confirm this when we contacted the company.
Are you a Play.com customer who still hasn't received your copy of the game? Let us know your thoughts.
Update
Play has since responded to Register Hardware with the following statement:
"We would like to apologise to any of our customers who have experienced delays in receiving CoD:MW2. This title has been the largest single release in the history of gaming with over 1m units selling on the first day. With such huge number, a very small proportion of customers who pre-ordered the game have been affected and we are doing our utmost best to rectify the situation and quickly as possible." ®
Sponsored: Minds Mastering Machines - Call for papers now open