Wii to receive dedicated iPlayer feed
Auntie's interface adjusted?
The UK's Wii owners will get a dedicated BBC iPlayer channel on their connected consoles next week, it has been confirmed.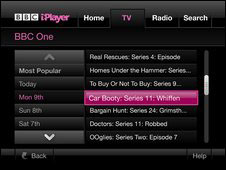 An iPlayer channel will arrive on the Wii on 18 November
Although iPlayer has been available on the Wii since April 2008, the BBC said that "many console owners reported problems with the original interface".
The BBC hasn't been good enough to say how the service's interface has changed, stating only that Wii will be able to download the iPlayer channel through the console's online shop from 18 November.
Wii owners have reported several interruptions to iPlayer since April 2008, most notably back in September when the broadcaster said that Nintendo's latest Wii system software update "caused BBC iPlayer to stop working". ®
Sponsored: Application managers: What's keeping you up at night?