Intel P55-based motherboards
The best boards for 'Lynnfield' Core i5s and i7s
Turning to the I/O panel, we find surround sound audio with optical and coaxial S/PDIF, eight USB 2.0 ports, one Firewire, an eSata and two Gigabit Ethernet ports. There are three USB headers mid-board, and MSI supplies a bracket with two USB ports in the package.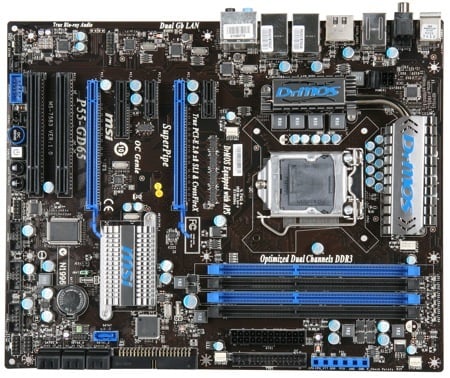 A neat board
In many respects, that's all par for the course, but MSI has added a couple of extra wrinkles. For one thing, the four memory slots support DDR 3 memory up to 2133MHz which looks good on the specification but doesn't have a huge effect on performance.
The Intel DP55KG also supports fast DDR 3 and we used that motherboard to overclock our Kingston Ram to 2033MHz which added an extra 10GB/s to the memory bandwidth. That's a huge amount of bandwidth, but it doesn't have a noticeable effect on performance.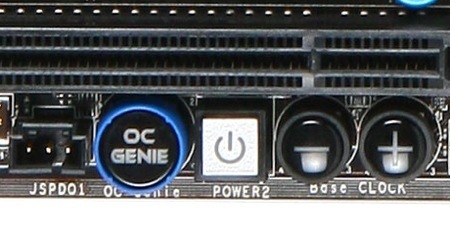 On-the-fly overclocking buttons
The feature that sets the P55-GD65 apart from the competition is the row of four micro buttons at the foot of the board. One is for power and two allow you to adjust the base clock speed while the motherboard is running. It's the fourth button, labelled 'OC Genie', that adds the magic. It offers the simplest method of overclocking that we have ever seen.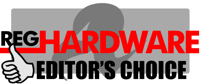 Turn off the PC, press the OC Genie button, turn on the PC, wait a couple of seconds and your PC will start at an overclocked speed. In the case of our 2.93GHz Core i7 870 OC Genie raised the speed to 3.98GHz and the system was rock solid with no work on our part, which makes the MSI P55-GD65 a winner as far as we are concerned.
Reg Rating 90
Price £130 Click here for the best online price
More Info MSI's website
Sponsored: Minds Mastering Machines - Call for papers now open