Parking spot flies to International Space Station
Spacecraft docking day or night
A new Russian module has arrived at the International Space Station today, providing the orbiting outpost with an much-needed extra parking spot for its expanded crew of six.
The unmanned Russian Mini-Research Module 2, also known as Poisk, docked to the space-faring port of the Zvezda service module on Thursday 15:41 GMT (10:41 EST). It used an automated radar-guided system to rendezvous, two days after launching from Kazakhstan.
Because the space station's crew was increased to six this year, two Russian Soyuz spacecraft are required to be docked at the ISS at all times to serve as emergency lifeboats. Before the new Poisk docking module, that left only one open spot for docking Russia's Progress resupply craft and for Soyuz crew rotation missions.
Poisk means "search" or "explore" in Russian.
It is the first major addition to the outpost from Russia since the launching of the near-identical Pirs docking module in 2001. In addition to Poisk providing the ISS with additional parking, the module will be used as an airlock for spacewalkers wearing Russian Orlan spacesuits.
Poisk arrived at the ISS carrying about 1,750 pounds of equipment that includes water supply gear, crew hygiene supplies, medical equipment, personal items, and spare parts. The module weighs about 8,000 pounds and is about 13 feet long and eight feet in diameter at its widest point, according to NASA.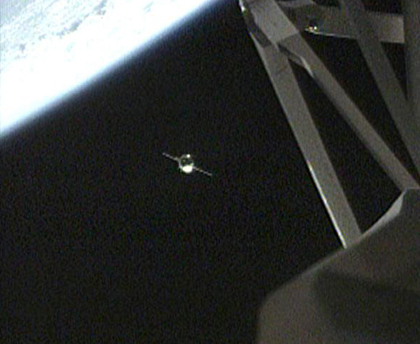 Poisk approaching the ISS, courtesy: NASA TV
The station now has five docking ports total: one located on the American segment for US shuttles, and four on the Russian segment. European Space Agency craft also dock on the Russian segment, while Japanese craft are attached to the American segment.
Russian cosmonauts Max Suraev and Roman Romanenko will open the hatch to Poisk on Friday and enter the module for the first time. But before the Poisk is ready to host visiting spacecraft, the module's Progress space tug will be jettisoned around December 8. Cosmonauts will also perform a spacewalk in January to ready the port for rendezvousing.
Meanwhile, the ISS Expedition 21 crew is preparing for next week's scheduled arrival of space shuttle Atlantis on the STS-129 mission to deliver critical spare parts to station. Atlantis is penciled in for a launch from Kennedy Space Center in Florida on November 16. ®
Sponsored: Minds Mastering Machines - Call for papers now open