Without the phone functionality, admittedly not all of the Google Experience apps make sense - but it would still be nice to have them on there anyway, if only to stop people scratching their heads trying to work out where the Google apps they've seen on Android phones have gone.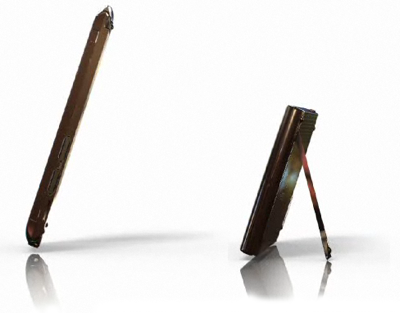 Nice and thin - at least, the SSD version is...
Moving onto the hardware itself, the design has changed little from the previous model. It's available with either solid-state or spinning disk storage. The former comes in 8GB, 16GB, 32GB or 64GB capacities, measures 143.2 x 78.8 x 10.4mm and weighs 182g. The hard drive models offer either 160GB or 500GB of storage and are the same dimensions front on, but are almost 10mm thicker and weigh an extra 104g.
The front is filled by a 4.8in, 800 x 480 touch-sensitive screen and you're limited to just three physical buttons on the top: volume up and down, and power.
Over on the left hand edge, the 3.5mm headphone jack has been joined by a standard micro USB port which, while not as common as mini USB, is a least pretty easy to get hold of if you lose the cable or you want a spare. The micro USB doubles as both PC connection and charging power source.
The same two proprietary USB ports are present on the bottom but there's now also a Micro SD card slot so you can easily slide in more storage. It supports SDHC cards, so you can add in another 32GB of solid-state storage if you run out of space. Finally, round the back, you'll find a stand, so you can watch video hands-free.
The screen is glossy, so naturally more reflective than a matte finish, but not to such an extent that it's distracting when you're trying to watch a film. The touchscreen, however, does take some getting used to.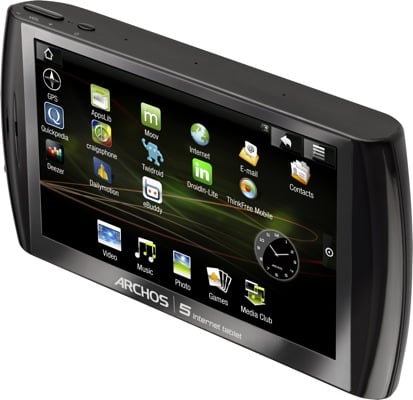 The hard drive model is a bit more chunky
Unlike something like the iPhone, which is a solid sheet of glass, the Archos' screen feels very plasticy and not as responsive. As it's so big, it's also quite difficult to scroll across it in one go without your finger sticking and then juddering and jumping to another spot. You can control it with non-living objects like the top of a pen, however, which makes for a much more responsive experience, but feels a tad old-fashioned, like using a stylus on a smartphone.
COMMENTS
Beware Nicolas Charbonnier aka Charbax
Nicolas Charbonnier is better known as Charbax, the #1 Archos fanboy who will go on every Archos review and try to tell the world that they will be fixing all of the problems some time soon. His forum is just him cheer leading for Archos. So take his comments with a grain of salt. He's rather like the Microsoft dude in the Apple commercials, promising that the new version of Windows will not have the problems of the last version.
Yes but
... what is the screen quality like Nicolas?
Nicolas Charbonnier=charbax owner of archosfans
http://www.reghardware.co.uk/Design/graphics/icons/comment/unhappy_32.png
Don't listen to charbax. He's such a archos fanboi.
He has a site dedicated to being a archos fanboi.
He gets a boner from hearing the word archos.
This guy is a tard and a tool.
He literary responds to each and every archos type review to defend why archos makes such
crap products.
This Tool went so far as to buy stock in the failing company.
So take charbax comments on archos be reliable with a grain of salt.
He said all the previous models which now has no support were great also.
Charbax =http://www.reghardware.co.uk/Design/graphics/icons/comment/fail_32.png
all negative comments from the same troll
I'm using the Archos 5 Internet Tablet with Android using the iGo stowaway bluetooth foldable keyboard to write this comment, it works absolutely awesomely and replaces my laptop when output on my 42" HDTV using the HDMI output.
Media playback and Internet Browsing is close to perfect even now with just Android 1.5 firmware, which was only supposed to work for A couple HTC phones. With the updates with Android 1.6 and 2.0, Archos will get all the wvga apps, Google Marketplace and all that so it will rteach closer to perfection.
Screw Archos
I have an AV500, really nice unit, never seen any other device (even PC software) that can ffwd/rew through video files as well+quick as this unit can, external recording is nice - but the kicker is the HD in my unit now has a few errors on it and Archos have implimented software locking so I can't replace the drive myself. Physically it's possible to swapt the drive out, which I tried but it just refuses to use the new drive. I tried contacting them through support email wanting to pay them to do the replacement - no answer.
Utter utter bastards.
Never gonna buy Archos stuff again, especially as it seems you have to buy codecs to play back standard video formats and if you want to record from cameras etc. you need to buy a plethora of docks for the damn things.