Archos 5 Internet Tablet Android-based PMP
The world's first Google-based media machine
Review At first glance, you could be forgiven for thinking we were re-running a review from last year - we originally put the Archos 5 through its paces in October 2008. The addition of two extra words to the end of the name may not sound that exciting initially, but while the Archos 5 Internet Tablet may look very similar to its predecessor there is one very significant change: it now runs Google Android.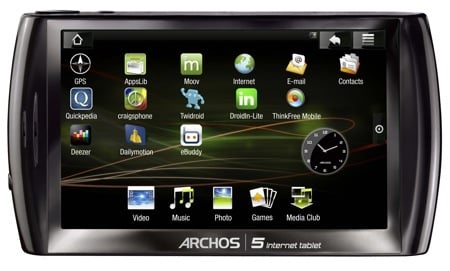 Archos' 5: homegrown OS out, Google Android in
Gone is Archos' own - not exactly super swish - Linux-based OS and in its place sits Google's Linux-based mobile operating system, the first time that it's been seen in an official capacity on a shipping product that's not a phone.
However, it's probably worth getting this out of the way early on: not all Android devices are created equal. Yes, Android is an open source operating system that any manufacturer can download and install onto its hardware without paying a fee. However, don't expect it come with all the applications you're accustomed to seeing on phones from the likes of HTC, for example. Specifically, you won't find Google's suit of apps on there by default since Google doesn't give those away for free.
So, while you will find the core Android functionality, you won't find the apps that make up what's termed the Android Google Experience - which means no Gmail, YouTube, Google Maps, Calendar and Google Talk.
Perhaps the app you'll miss most, though, is Android Market, Google's equivalent to Apple's App Store. Archos has strung its own version together called AppsLib, which promises to showcase free and paid software developed specifically for the Archos 5's larger screen, but it has nowhere near as many apps as the official Google phone-centric offering.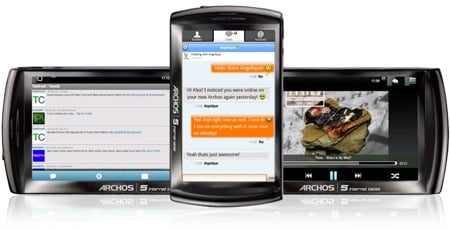 Apps, apps and more apps
You can also go down the DIY install route for some apps. Point the browser at m.spotify.com, for example, and you can manually set up Spotify by selecting one of the HTC versions and then clicking the link labelled "manually download the application". A slick experience, however, it is not.
COMMENTS
Beware Nicolas Charbonnier aka Charbax
Nicolas Charbonnier is better known as Charbax, the #1 Archos fanboy who will go on every Archos review and try to tell the world that they will be fixing all of the problems some time soon. His forum is just him cheer leading for Archos. So take his comments with a grain of salt. He's rather like the Microsoft dude in the Apple commercials, promising that the new version of Windows will not have the problems of the last version.
Yes but
... what is the screen quality like Nicolas?
Nicolas Charbonnier=charbax owner of archosfans
http://www.reghardware.co.uk/Design/graphics/icons/comment/unhappy_32.png
Don't listen to charbax. He's such a archos fanboi.
He has a site dedicated to being a archos fanboi.
He gets a boner from hearing the word archos.
This guy is a tard and a tool.
He literary responds to each and every archos type review to defend why archos makes such
crap products.
This Tool went so far as to buy stock in the failing company.
So take charbax comments on archos be reliable with a grain of salt.
He said all the previous models which now has no support were great also.
Charbax =http://www.reghardware.co.uk/Design/graphics/icons/comment/fail_32.png
all negative comments from the same troll
I'm using the Archos 5 Internet Tablet with Android using the iGo stowaway bluetooth foldable keyboard to write this comment, it works absolutely awesomely and replaces my laptop when output on my 42" HDTV using the HDMI output.
Media playback and Internet Browsing is close to perfect even now with just Android 1.5 firmware, which was only supposed to work for A couple HTC phones. With the updates with Android 1.6 and 2.0, Archos will get all the wvga apps, Google Marketplace and all that so it will rteach closer to perfection.
Screw Archos
I have an AV500, really nice unit, never seen any other device (even PC software) that can ffwd/rew through video files as well+quick as this unit can, external recording is nice - but the kicker is the HD in my unit now has a few errors on it and Archos have implimented software locking so I can't replace the drive myself. Physically it's possible to swapt the drive out, which I tried but it just refuses to use the new drive. I tried contacting them through support email wanting to pay them to do the replacement - no answer.
Utter utter bastards.
Never gonna buy Archos stuff again, especially as it seems you have to buy codecs to play back standard video formats and if you want to record from cameras etc. you need to buy a plethora of docks for the damn things.