Sony Ericsson Satio 12.1Mp cameraphone
Ready to take on iPhone, Pre, Hero etc?
The rest of the Satio's feature list ticks most of the right boxes. Call quality is excellent, for instance, and all the connectivity you could want from a top-end phone is here. Assisted-GPS is accessed from the the pre-installed Google Maps, and data access comes courtesy of either the integrated Wi-Fi or 3G radios. The Satio does quad-band GSM/GPRS/Edge, but it's limited to the 900MHz and 2100MHz bands for HSDPA 3G/WCDMA.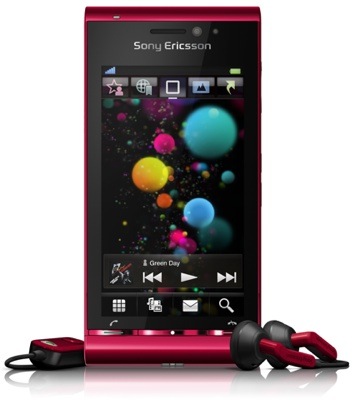 Nice 'phones, shame about the connector...
Battery life is good too: we made a few calls, watched iPlayer and used Google Maps extensively, and the Satio's battery indicator headed into the red slightly over 24 hours after we took it off the charger.
The chief irritation is the proprietary data/charger/headphone connector – lose the USB cable and you're stuffed. The headphone connector has an integrated microphone, at least, and terminates in a 3.5mm headphone jack so you can connect your own 'phones.
All of which leaves us with a decent enough phone with only a few significant drawbacks – namely the boring, uncomfortable design and difficult text entry. So whether you should get one depends largely on how much it costs, which is where the train really comes off the rails. At £146 on an 18-month, £30-a-month contract with Orange, the Satio is more expensive than the iPhone. You can get it for free with Vodafone's £35-a-month, two-year contract, but even then the price only brings it level with the iPhone. While the iPhone is by no means perfect, it's much, much more enjoyable to use than the Satio.
Admittedly, you get more minutes and texts with the Satio's contracts, but if your priority is a fun, responsive phone with superb internet credentials, the Satio pales in comparison. Alternatively, you can bag the HTC Hero from Orange for free if you sign up for its £30 a month on a 24-month contract.
Verdict
The Satio isn't a bad phone, although it has its frustrating moments. But with the price so high and the contracts so unappealing, there are plenty of better options available. ®
More Cameraphone Reviews...

Samsung
Pixon 12

LG
Crystal

Samsung
Omnia HD

LG
Viewty
Smart
Sponsored: Minds Mastering Machines - Call for papers now open

Sony Ericsson Satio 12.1Mp cameraphone
A decent operating system and an above-par camera can't save this expensive, uncomfortable phone from obscurity.
Price:
Contract: Free, depending on tariff. Sim-free: £500 RRP