Sony Ericsson Satio 12.1Mp cameraphone
Ready to take on iPhone, Pre, Hero etc?
There are also a few niggles in terms of how intuitive the operating system is to use. Who would have suspected, for instance, that the Satio's file manager and list of applications lay beneath the Organiser icon, which looks at first glance like a calendar app?

The Satio is bulkier than Sony Ericsson's thinness claim would suggest
Selecting items from a menu can also be inconsistent. Sometimes a single tap on the screen is enough to select an option; other times you need to select the menu item and then tap "OK" at the bottom of the screen. Elsewhere, we found that some menus which extended below the bottom of the screen could be flicked up; others required us to drag our finger down the list towards the bottom of the screen to see more choices.
Unfortunately, a phone's success depends on how well its hardware matches its software, and although the Satio's implementation of Symbian is far from disastrous, the phone's hardware isn't exactly what we'd deem 'sexy'. For a start, there's the thickness. The Satio's spec sheet claims the phone is 1.12cm thick, but that's at the thinnest point. Measured at the bulky lens cover on the back the Satio is nearly 2cm thick, and that's a bit much for our jeans.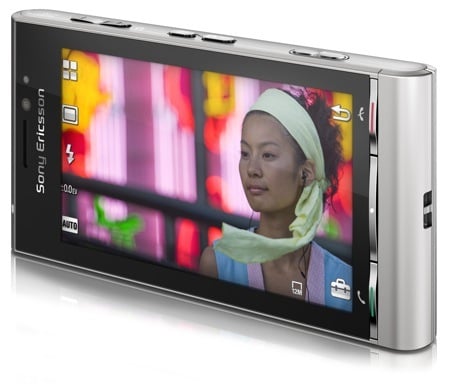 The ergonomics could be better too
Then there's the ergonomics to slate. There isn't a single concession to the fact that, by and large, the Satio will be used by humans. The back and front are perfectly flat, with the only curves appearing at the top and bottom. These curves mean it's virtually impossible to cradle the Satio between your shoulder and your ear without it sliding away. The right angles along the sides mean the Satio simply doesn't feel particularly good in the hand.
Sponsored: Minds Mastering Machines - Call for papers now open