HTC Tattoo
Cut-price Googlephone for the masses?
For music, the Tattoo can handle MP3, AAC, WAV and WMA 9 formats, and features a good-looking icon-based interface with all the usual sorting options and echoes of HTC's TouchFlo 3D in its scroll bar. It also has the ability to make playlists on the move.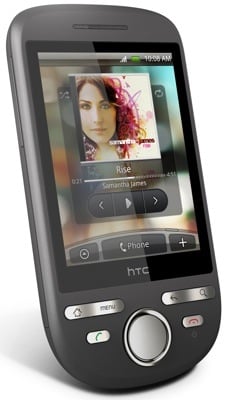 Facebook, meet phone
The supplied headphones aren't up to much, as usual, but at least you can easily replace them since the Tattoo has a top-mounted 3.5mm audio socket and A2DP stereo Bluetooth.
There's only 512MB of memory on board, which won't take you very far, but the Tattoo comes with a 2GB Micro SD card under the cover and you can add larger ones of up to 32GB.
Battery life isn't great, but then again it's not the worst we've seen from a smartphone. HTC promises up to 390 minutes of talk time and 520 hours of standby, but this translated to around a day and a half of moderate to heavy use, including having Wi-Fi switched on all the time. As per most recent HTC handsets, the Tattoo has a mini USB port on the bottom which can be used to charge the phone and to transfer files back and forth.
Verdict
The HTC Tattoo makes a good effort to offer a strongly specced Android phone at a more affordable price than most others. We like HTC's Sense UI with its seven home pages and dedicated apps for presenting messages and updates, plus Android Market of course. Though the browser hasn't advanced, it's perfectly fine for navigating the web. There's no Flash video support, mind, but you can watch YouTube using a dedicated app.
The screen is a definite step down from previous HTC Androids, with the onscreen keyboard in particular feeling the loss. The camera is distinctly average, but all things considered, the Tattoo is a very good Android offering for the price. ®
More Android Smartphone Reviews...

Samsung
Galaxy

T-Mobile
Pulse

Motorola
Dext

HTC
Hero

HTC Tattoo
This economy Android phone still packs in an impressive list of features.
Price:
Sim-free: £280 RRP