HP, Dell punters furious over Windows 7 upgrade delays
'Step up to the plate', people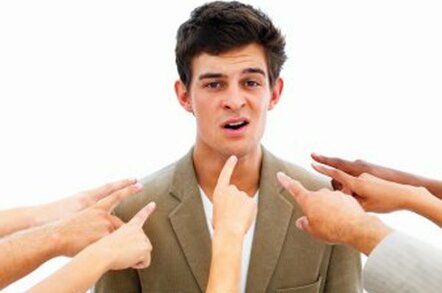 Some Hewlett-Packard and Dell customers are up in arms about delays to the Windows 7 upgrades promised to punters who purchased PCs from the hardware vendors earlier this year.
Many computer makers hoped to keep sales ticking over ahead of the arrival of Windows 7 by promising customers an upgrade to the Vista successor once it landed on 22 October.
However, weeks on from that launch, HP and Dell's tech support forums are awash with customers complaining that the upgrade hasn't been shipped to them yet.
Microsoft's hardware partners characteristically mounted a glitzy marketing campaign earlier this year, in a move to capitalise on Windows 7 by offering a not-exactly-free upgrade to the OS for customers who bought Vista-based PCs between 26 June 2009 and 31 January 2010.
Of course, at the same time, the likes of Dell and HP were also keen to shift kit that came loaded with an unloved and increasingly obsolete operating system before Windows 7 rocked up to sound the death knell for those machines.
But here's the rub: lots of customers who bought Vista-based computers with the knowledge that they wouldn't be shackled with that OS for long are still awaiting their upgrades.
"I registered for my upgrade kit in August and was waiting for the confirmation mail from Dell as to when i can order my kit, but alas no email," grumbled one Dell customer on the firm's forum.
"I was frustrated and then tried to look it up here and then tried to login to the win 7 upgrade site and to my surprise, i found the upgrade kit in my cart. I completed the order process and i get a shipment date of 12/04/2009... seriously???? 1 month even to ship it????"
Others similarly complained that Dell had failed to email customers about their upgrades.
Another Dell punter, who bought a laptop from the vendor in August, grumbled that he was being kept in the dark by Dell and reasonably asked: "I registered with Dell for the free upgrade. Since Win 7 has been released now, how long will it be before I receive the notification that I can get my upgrade?"
And HP is currently facing similar complaints from unhappy customers who haven't received their Windows 7 upgrades yet.
"The Windows 7 upgrade site is stating that my product number is invalid. I am extremely frustrated at how much time I am having to spend trying to obtain a Windows 7 upgrade," said an HP customer on its support forum. "Why doesn't HP step up to the plate and simply mail out Windows 7 upgrades?"
We asked HP and Dell to comment on this story, but neither company got back to us at time of writing. ®
Sponsored: Minds Mastering Machines - Call for papers now open