Apple's mini DisplayPort added to Vesa standard
Proprietary no longer
Vesa - the organisation overseeing DisplayPort - has added Apple's compact version of the digital monitor connector to its specification sheet.
Apple introduced its mini DisplayPort connector in 2008, rolling them out with the first metal MacBook, later renamed the 13in MacBook Pro.
The company subsequently offered the connector specification, which delivers the same functionality as a full-size DisplayPort jack, to Vesa - the Video Electronics Standards Association.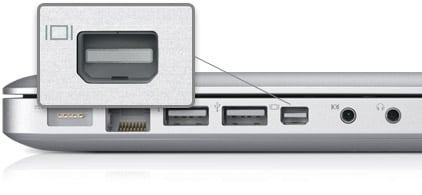 Cap up: Apple's mini DisplayPort has become Mini DisplayPort
Now Vesa has published a Mini DisplayPort (mDP) specification as an adjunct to DIsplayPort 1.1a, the revise version of the spec released back in January 2008.
mDP will be incorporated into DisplayPort 1.2 which doubles the link's bandwidth to 21.6Gb/s - 5.4Gb/s per lane - used to support higher resolutions, faster refresh rates, more colours and multiple monitors - two 2560 x 1600 monitors, or four 1920 x 1200 screens, for example - through a single feed.
Stereoscopic imaging support is also expected to be incorporated into the spec to pave the way for 3D monitors operating at resolutions higher than 1080p at 120Hz.
DisplayPort's auxiliary data channel will be expanded so that it has sufficient capacity to handle USB traffic, enabling monitors to include USB ports, webcams and microphones.
Alas, Vesa was silent on when DisplayPort 1.2 will debut. Back in January, it forecast a mid-2009 publication date. That window has opened and closed. Will the specification be formally launched at the January 2010 Consumer Electronics Show, we wonder? ®
COMMENTS
HDMI, DVI, etc.
DVI works very nicely on my 1080p laptop going to my 52" flat screen... not sure why people are complaining about it... too bad it did not include audio and too bad I couldn't use a 15 pin analog rgb adapter to my existing 12 foot DVI cable...
The HDMI just irritates me because of the protection placed into the stream of video... people should be able to record from HDMI the same way they could off of svideo...
The mini display port looks really nice --- 4 1080p monitors with USB? that's great!
weird proprietry display connector?
there's a standard for that .... now...
in all fairness, if this means we can have quad ports off the back of a standard GFX card, instead of those splitter things - that don't seem to be that compatible between ati/nvidia/matrox cards, then all for it.
also may mean that the monkeys in hardware can't screw up putting it together. "doesn't fit? just push harder!".
seriously. how you can get a PCIe x16 card in an AGP port takes a little doing, not to mention damaged splitters and card ports... but i digress...
@Tony Smith
"To encourage computer makers to use DP instead of HDMI. This doesn't appear to be working too well."
Really? Seems like Apple has gone for DisplayPort with aplomb, and you can toss the new ATI cards into that ring too. Dell has also seems to be dunking a toe into the water with several monitors and machines sporting DisplayPort.
As for HDMI, its non-existant in the PC display market unless your monitor also is advertised as doubling as a telly.
I think we're going to be seeing a lot more DisplayPort. That said, I'm NOT in favour of Mini DisplayPort in use on regular size devices - there's more than enough space to stick a regular DisplayPort on these Apple machines - even the Adamo XPS has a full size DisplayPort. Too many variations of a standard for no reason causes as much confusion as having multiple standards. Apple's bad, really...
@Grumpytom
I don't have a problem with license fees - I just wanted to understand Apple's motivation and the strategy for DisplayPort.
$0.10 max per HDMI device is only fine on high-end devices though I think low cost STB manufacturers can just about cope with $0.05 per device.
Somehow, manufacturers need to be convinced the extra engineering and materials will help them sell more products by including DisplayPort. I think manufacturers need to be convinced they should include it *in addition* rather than *instead* of HDMI or their products will have a very limited market segment opportunity.
Now, if the next gen HD iPhone and iPod Touch had DisplayPort... (cue flames)
I will own something that uses this exactly when?
I still don't even own a monitor that has a DVI input, despite having just brought a nice 22'' 1080p one from LG. My TV's are quite content with the usual collection of HDMI and component sources and I'll be dammed if I'm buying another one until they are long settled on exactly how 3D TV is going to play out (Here's me with a nice newish 50'' 600Hz plasma thinking they are going to support peoples existing tech and go frame progressive, but then everyone seems to be shifting towards polarized LCD's, I'll be dammed if I'm going back to an LCD TV)
I can't see people shifting from HDMI any time soon seeing as how it's now the de-facto connector for there considerable investment in high def AV equipment, and is widely supplied on PC's and laptops. DVI was a joke and wouldn't even support the resolutions of it's day unless you used weird dual link leads. It's also a bit ironic that in these days of digital everything it's the analog (15 pin D sub VGA, component HD etc) that seem to "just work"