El Reg's LHC visit - Deleted Scenes
'An impossible machine that could not be built'
"Kids love it"
Before all that could even begin, the previous Large Electron Positron (LEP) collider had to be ripped out of the tunnel, a big job in itself.
As all the world knows, the LHC finally powered up last year: but it hadn't been running long when a faulty electrical connection between two magnets blew up - always a possibility when the coils have to carry 11,500-amp currents - and took out the liquid-helium conduit above it. Liquid helium, being a superfluid, will get through any crack or aperture, meaning that the conduits too must be engineered with extreme care.
Last year, the supercold liquid more or less exploded out of the failed join and roared along the insulating vacuum jacketing around the central cores, causing magnets to jump off their mountings for hundreds of metres each way. Repairs and modifications aimed at preventing another such disaster have taken up more than a year, possibly giving a rival American particle-puncher time to beat the LHC in the race to find the elusive Higgs boson.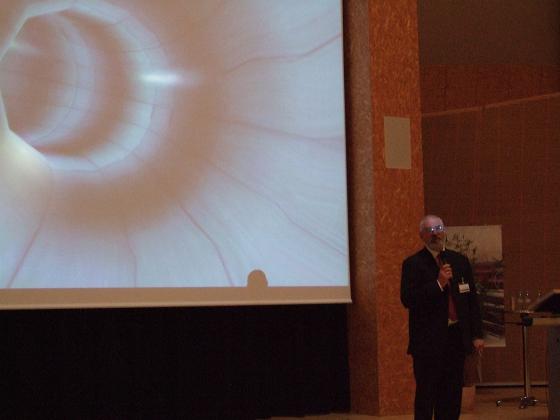 This is the type of thing which absolutely will not happen if we have a problem
It having been judged impossible to replace or test every single connection in the whole ring in a reasonable time, the plan is now to fire the machine up at half power initially and gradually turn it up later. These will be tense times for engineers like Kurtyka: though he smiles and says "I'm a mechanical engineer, not an electrical one. It was an electrical fault."
Kurtyka likes working at the LHC anyway, despite the difficulties, tension, risk of being turned into a frosty stalgamite statue in a liquid helium leak, possibility of dimensional portal invasion and so forth.
"Kids love it," he says. ®
Sponsored: Minds Mastering Machines - Call for papers now open