El Reg's LHC visit - Deleted Scenes
'An impossible machine that could not be built'
"Some of the collisions should be horrendously messy"
But we did get the chance to speak to various CERN boffinry chiefs regarding the mighty proton-punisher and its associated globo-computing grid, which will be highly necessary once the various instruments placed around the 27-km magnetic motorway begin to sift the shattered sub-particulate debris expected to spray everywhere when hadrons crash into each other head-on at almost light speed.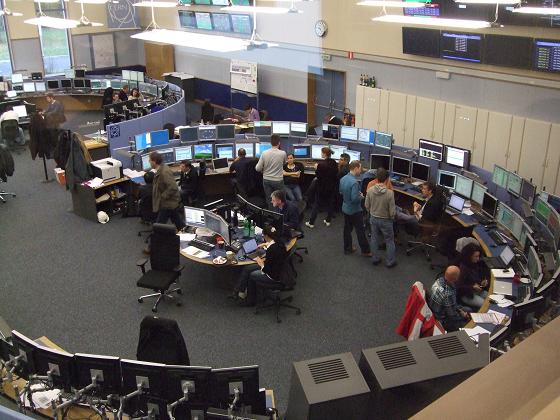 Where the magic happens. Note the small number of champagne bottles so far.
"We aim to deliver maximum beam energy," control-room boffin Dr Mike Lamont told us.
"Some of the collisions should be horrendously messy."
According to Sergio Bertolucci, one of the most senior boffinry chiefs at CERN:
"When the LHC was first conceived it was an impossible machine that could not be built, but it is working now... it is one of the coldest and emptiest places in the universe - there are less atoms inside the tubes than there are in outer space, and at less than 2 degrees above absolute it is colder than the average temperature of the universe."
"I could go on telling you fascinating and unique facts all day," added the physicist, "but let me sum up by saying this - doing this experiment is more complicated than sending a man to the moon, and it is not us who says this but those who did send men to the moon."
Bertolucci even went so far as to apparently hint at an interdimensional portal invasion of some sort, though no doubt we misunderstood.
Sponsored: Minds Mastering Machines - Call for papers now open